Marina di Ragusa: Olive Picking

Wanderingdragon
Stephen & Anne
Mon 11 Nov 2013 11:58
36.46.832N 14.32.744E
On Tuesday we were up early and got ready to go Olive picking along with 8 others from the Marina. We packed ourselves into the mini bus ready for the journey to Palazzolo Acreide. Unfortunately as we climbed into the hills the rain started. We arrived in Palazzolo Acreide and the heavens really opened. Milla & Paulo met us in a café and after a coffee we decided to go to the Agricultural museum and hope the rain stopped. Picking olives in the rain would be no fun at all. 
The Church in the main square of Palazzolo Acreide
An old olive press in the museum
Paulo was very informative and told us how the cattle herders would carve utensils in the summer while they were looking after the herd.
We left the museum in dry weather – but by the time we got back to the main square the heavens opened once again. We bravely carried on to the farm and luckily once we arrived it dried up. We wrapped ourselves up warmly and went out to the olive grove.
Anne picking one handed
Stephen goes for the top of the tree.
Our motley crew of olive pickers. Paulo is the one with the beard and Milla has the orange bump under her coat – which is actually baby Rachel.
Paulo is very passionate about producing natural products and he feels that Olives should be picked by hand and pressed within 48 hours as it is gentler on the olives and produces a better olive oil. When we start picking a tree it is easy to find somewhere to stand, as there are no olives on the mats.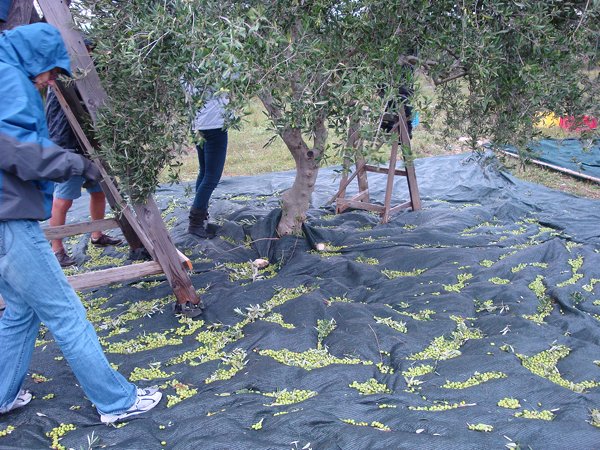 Once the picking has started trying not to stand on the olives can be a bit tricky. We stopped picking when dusk fell.
We were fed a typical Sicilian meal – the cheeses were from the farm next door and were delicious. Milla made a lentil soup/stew which was an old family recipe which was also delicious .
After dinner we loaded the olives into the car and headed to the olive Press.  The olives were tipped into two large containers to be weighed. Over two days we had picked a total of 493Kg of olives.
We then had a tour of the olive press. We saw other olives picked and even to our untrained eye, ours were the best (most fresh and least damaged due to picking by hand). We then headed back to the marina, tired but very happy.
The following morning we got the news that our olives yielded 17.6% oil. This is a very good yield and Paulo and Milla were very happy. While we were at the press some people were only getting a 6% yield.
---