Port Leone, Kalamos -> Vlikho Bay, Levkas with a Quick Trip to Spartakhori, Meganisi

Wanderingdragon
Stephen & Anne
Fri 16 Aug 2013 15:56
38.41.173N 20.42.105E
After another peaceful night in Port Leone we were trying to decide whether to stay another day or leave. The weather made the decision for us. While we were thinking about leaving the wind picked up from the east – which meant it was blowing straight into the bay. We knew we were fairly well set but thought it might be tricky leaving if the wind got any worse. One problem with lines ashore is someone has to go and untie them and once they are untied the boat will swing to face the wind. Luckily, although we had a small motor boat next to us, we had just enough room to swing round without hitting him. Anne had the fun job of dinghying down the lines untying the ropes and then pulling herself (or being pulled by Stephen) back to Wanda.
We then headed up the island to the town of Kalamos. Although there was plenty of wind we were heading straight into it. After a while we decided this was silly, we should be sailing and after all we had no where particular to go so we should follow the wind! We turned – got the sails out and enjoyed a sail for at least 10 minutes – before the wind dropped. Typical! As we hadn't gone far we went back to plan A and turned around once again. After that we seemed to spend most of the day heading into wind. We did manage to sail again just as we were passing Skorpios and into Nidri.
We had a few days in Vlikho bay at anchor catching up with the laundry (the yacht club here does a very good wash for 4 euros)
After a few days we were getting a bit low on water and wanted to run the watermaker and clean below the waterline a bit – we headed off to Skorpios island. Unfortunately the beaches on the island had been buoyed off so there was very limited anchoring space. We did put down the anchor but we were not happy and as we watched more and more boats approaching. We decided it wouldn't be a pleasant day here so we headed off to Spartakhori.
We decided to try the other Taverna this time and headed for the bottom corner. We were directed into a space on the "Free" Quay. As this was the "free" quay we had to pay for water and electricity is we wanted it – we decided we could manage without.
Dinner at the taverna in Spartakhori – Wanda is the first boat on the right of the left group of boats.
One slight problem was wet feet – when a large boat went past.
We had planned to stay two days in Spartakhori however we were told by the "harbour master" that there was some wind due which would make the quay uncomfortable. He made sure we understood we could stay but was just warning us. We decided it would be far easier to leave now than in a strong wind so we headed back to Vlikho bay.
We had a couple of nights at anchor then headed to the Hotel Iris pontoon on Monday – the lure of the swimming pool was too much.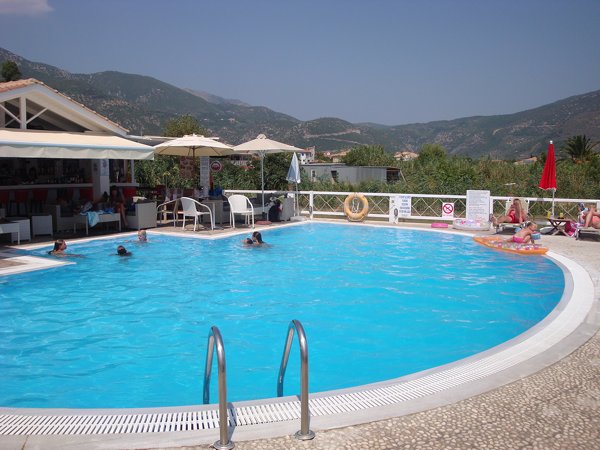 The Hotel Iris Swimming pool – just too nice. We pay 10 euros a night for the pool, water, electricity and wifi. A pretty good deal we think!
The only down side is we need to leave if any flotillas arrive so today we left and headed back up to Vlikho bay as we are due strong winds (again!).
While we were on the Hotel Iris pontoon we watched the boat yard hauling a boat out – Greek style.
---