Gibraltar: The Apes

Wanderingdragon
Stephen & Anne
Tue 1 Apr 2008 20:45
36:08.940N 5:21.304W
Today we did the Gibraltar tourist trail. We took the cable car to the top of the rock. After a coffee and cake we went out to see the apes. They were lots of fun, especially the baby apes that were just there to have fun, play and generally be mischievous. They know no fear climbing the buildings and cliffs. The views were brilliant as we could see Africa and Spain clearly.
We then started the walk down and stopped of at St Michael's cave. We were not expecting it to be anything special however the stalactite and stalagmite formations really were spectacular. We then waked down to the ape den. The apes were following there natural instincts and acting just as they would in the wild of Africa (playing, eating and posing for tourists).
We then walked along to the other end of the rock and visited the great siege tunnels. These were carved out by the British army during the great siege between 1779 and 1783. Canons were used to fire on the attackers. Very impressive.
We then visited the Moorish castle. However not much is left although you could go to the top. By this time we were "viewed out" so we walked back down the rock to the boat. We had a brilliant day but are very tired. The cats slept all day and wanted to play when we got back. Yoyo is running around the boat and even Koshka is active!
"I suppose I'd better pose again!". Africa is in the background.
"Does my bum look big in this?"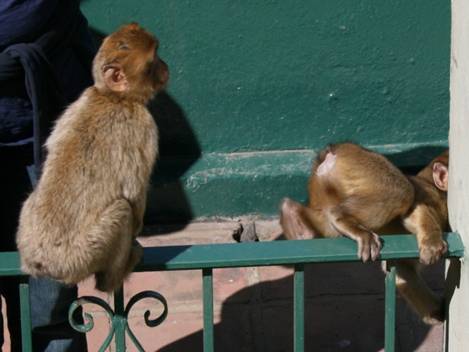 Monkeys playing…again
---