Cascais : Sintra - The Ancient Land of Castles and Palaces

Wanderingdragon
Stephen & Anne
Fri 9 Nov 2007 13:29
Today we visited the mountain top castles that are a 'seventh wonder of the world' in Sintra, about 30 miles north of Cascais.
We carefully calculated the route and picked the local buses that didn't look like they had budding F1 drivers. We then selected the scenic route via Cabo da Roca light house which is physically the most western point in Europe. Finally we then added extra zest to the journey by alighting a mile short of our intended destination. Not wanting to wait an hour for the next bus we started to walk where we thought the bus went. One hill climb backtracked later, we eventually found the local buses and arrived at the Moorish castle.
Built by the Muslims in the 9th century, it eeked history from it turrets and walls built on granite outcrops. We explored excitedly with no fear of any 'health and safety culture' here, climbing steps to turrets with death defying drops down one side. After falling into abandonment, King D Fernando the 2nd in the 19th century took lease of the castle and refurbished it.
We then walked up, and up, and up to the real life fairy tail Palace of Pena. Originally at 12th century chapel it was used as a convent until 1755. The new palace was built in 1842-1853 by King Dona Maria II. The intricate stone work on the turrets was matched inside and out. Used as a country residence by the Portuguese royal family until Portugal became a republic, the palace was converted to a museum in 1912. This really is a must place to visit exploring the watch towers, admiring the frescos in the Arab hall, the magnificent view from the Queens Terrace and the rarely used Great Hall. It's a shame we ran out of time exploring the acres of gardens with the heavy scent of Eucalyptus and the secret labyrinth of caves but we will return to the land of the knights and sieges another day with friends in tow.
Finally we rounded of the perfect day with an Italian meal where they used home made pasta with Carl & T
Hello Casper J
Moorish Castle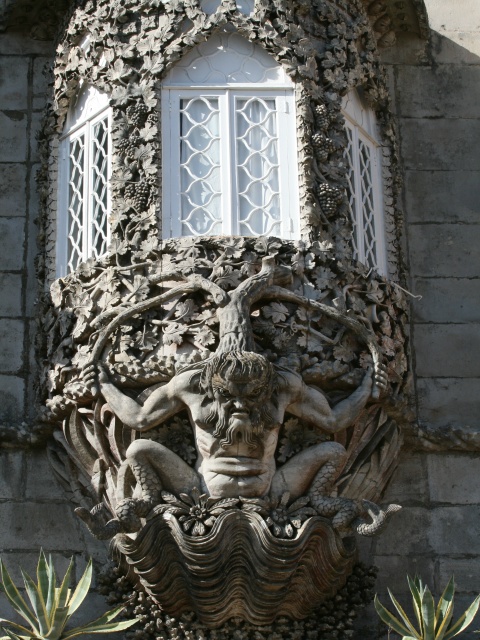 Just some of the intricate stone work depicting Tritan, half man, half fish
---