37:22.994N 023:14.875E

Ariel of Hamble
Jim and Valerie SHURVELL
Sun 22 May 2022 08:00
Erimoni Saturday 21st May, 2022.

A beautiful morning and everyone was quickly leaving the bay as the wind was slight and we had had a lovely quiet night. Excitement from home 9th grandchild had lost first tooth👍
After breakfast and a few jobs we were on our way as well. A crazy Frenchman probably very inexperienced in the mouth of the channel decided to put up his genny on autopilot with boats all trying to leave the bay. As soon as it caught the wind the sail flew out and the autopilot couldn't cope so the yacht very quickly picked up speed and luckily Jim put some more speed on our engine and their boat with its anchor looking at me went behind us missing the davits. A man and woman on board but neither of them on the helm. Last seen heading towards Spetzes and away from us.
We had the genny out but contrary to what the forecast gave us the breeze was non existent. We therefore had to admit defeat and put the engine on.
We are now anchored in deep water and tied stern to on the quay outside our usual restaurant. Our journey covered 15.4 miles.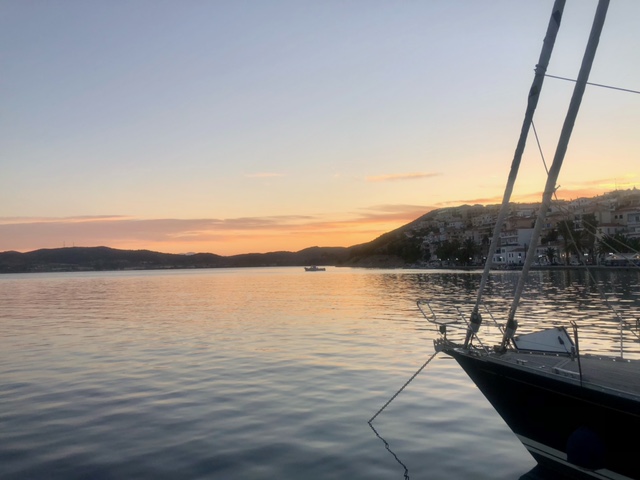 Jim had a lovely beer on arrival and we ate on board our chicken and sausage casserole we made a day or so ago.
Beautiful sunset to end the day.
---