37:22.51N 27:19.89E Talianaki, Kuruerik Bay, Turkey

Ariel of Hamble
Jim and Valerie SHURVELL
Sat 17 May 2014 17:13
Tuesday, 13th May, 2014.
We left Bodrum harbour just as the hotel guests were starting to fill the tables overlooking the bay and motored out past Karaada Island and along the coast which has numerous bays.  We were still in the shadow of Kos and the wind was very light but once we rounded the head on the west coast and turned north the wind filled in and Jim had the genoa and main goosewinged and we were roaring along.  We enjoyed seeing the very expensive villas and hotels at Turgutreis which is famous for fig growing. There are lots of rocks in this area with one called "Ship Wreck" which actually looks like a ship in the water. Gumusluk and Yalikavak soon came and went as Ariel made a very fast passage.  Just after Gumusluk we crossed from the area known as the Carian Coast to the Ionian Coast. 
Talianaki is a small bay just east of Altinkum and Didim marina.  We were the only boat in the bay.  There were lots of local fishermen who seem to come and go and we watched the chap with his four cows wandering around and talking to them.  The afternoon breeze dropped and we enjoyed a very quiet evening with a beautiful sunset and a great view.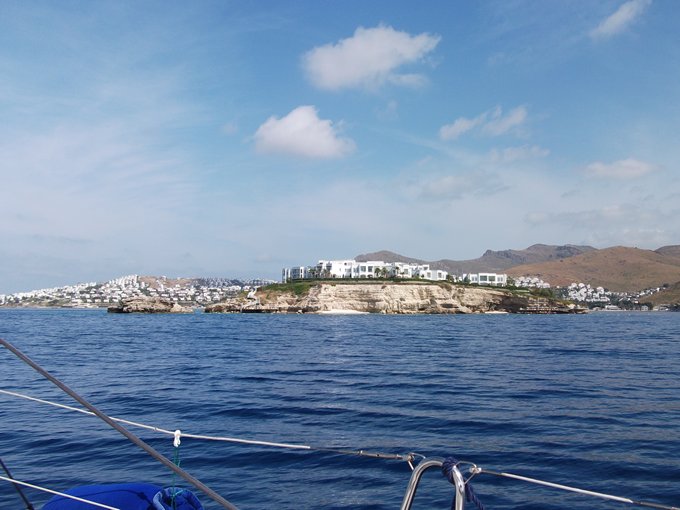 ---