37:23.76N 24:52.60E Siros Island

Ariel of Hamble
Jim and Valerie SHURVELL
Sun 9 Jun 2019 04:31
Wednesday 5th June, 2019.
We left Kea around 8.30 a.m.in bright sunshine and
headed out of the bay with a little breeze.  We had the
main up and were hoping for a nice breeze but as soon
as we rounded the first headland north of Kea harbour
we were in heading out across the sea it was on the
nose.  After a while Jim had to take down the main and
we had to motor all the way to Finikas on the west
coast. On the way we passed by the deserted island of
Yiaros. A journey of 35 miles arriving at 3.45 p.m.
where we quickly anchored in 8 metres in front of the
quay.  The wind is suppose to drop and we are happier
swinging rather than having to keep watching the wall
and hoping we won't be moved back onto it.
We had the pleasure of seeing three big grey dolphins
come and have a look at us but went away as quickly as
they appeared.
The bay around Finikas is very quaint and houses are
spread up and down the surrounding mountains. There
are several very posh houses with what appears to be
formal gardens. Doesn't seem to be any formal
agreement on where people can build as houses
anywhere. There is a no go area which is naval property
and no one is allowed to anchor in the area.
The harbour is very popular with yachts in good
weather. There are a number of restaurants and bars
around the harbour and a large number of small fishing
boats who sale their fish on the quay.  We did check it
out but the boatman who is selling the fish appears to
have a very well dressed man who seems to act like Mr.
Fix-It and tells you the price.  Two ladies in front were
asked 30 euros for one large mackerel and seven tiny
breem.  Very over the top so we were lucky we couldn't
buy anything as the ladies beat us to it!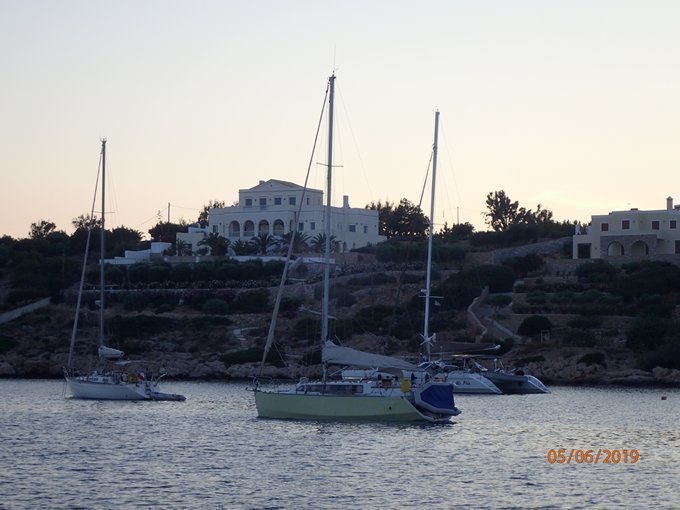 ---