43:10.53N 05:36.74E La Ciotat

Ariel of Hamble
Jim and Valerie SHURVELL
Sat 19 Jun 2010 07:21
43:10.53N   05:36.74E    La Ciotat
Saturday 29.5.2010
We set off after breakfast for the town of La Ciotat as the weather report was giving warnings of winds coming with the mistral.  On the way we had a stop for coffee at Ile Verte (Green Island) where divers were practising their skills, day trippers were being dropped off and the ever hopeful little boat man was fishing.  We saw a couple of people climbing the rocks and being targeted by sea gulls as they had strayed into nesting areas.  It is amazing that 20 birds can suddenly appear calling to each other and not afraid to dive bomb their victims.
We waited until nearly 12.00 mid day to allow any visitors to leave their berth in the town port of La Ciotat.  As we entered we were turned away so we went next door to Berouard Marina where two spaces were available. As the wind was beginning to blow strongly we were lucky that our new French neighbours were there to give us a hand to moor as the wind was having an effect on the side of Ariel.
We had travelled 12 miles from Cassis to La Ciotat.
We had planned to sail to Sanary sur Mer as our friends from Holland, John and Diedy were at a camp site with their caravan just outside of Sanary but it was not going to be today.
La Ciotat is a resort in two halves.  The old port and the harbour cafes sheltering in the lee of Cap Bec de l'Aigle and a long sandy beach sprawling around the bay. A large church over looks the old port together with the large museum and they are beautiful buildings which add to the joy of the place. The shops are all behind the harbour cafes in small streets where we strolled in the afternoon for stores.
The old port employed 16,000 people under Communist rule. But due to lots of strikes the ship yard failed.  About 10 years ago the Monaco ship yard was formed and today it employs 1000 people and their work is mostly on super yachts.  We counted at least 20 of them sitting on the ship yard hard being worked on.
We met up with an English couple from Lymington for drinks who are sailing their yacht from Port Napoleon to Sardinia for the summer.
In the evening we were delighted to have live music outside the Port control office playing their music to the whole harbour.  Moored by the Port control were two very different sailing yachts.  One was for racing only and the other was pure luxury.  You can guess which one Jim would have liked to go on!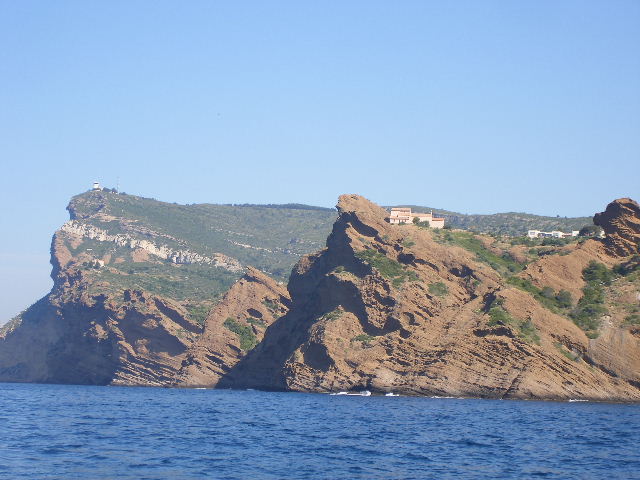 ---