36:49.69N 28:18.65E Marmaris, Turkey.

Ariel of Hamble
Jim and Valerie SHURVELL
Tue 15 Oct 2013 14:22
Friday 11th October, 2013.

It was time to leave our last port of call for this year and make our way into Marmaris bay to be lifted on Saturday.  We anchored and Jim went off in the dinghy to finalise our paper work and pay in order for us to have the correct piece of paper to hand the lift man in the morning.
We had a very peaceful night and were up and ready for the lift.  We called the marina and we were asked to make our way into the marina and we would be advised by the marina staff where to moor.  No problems on pulling up on the quay and waiting behind the boat in front of us.  Three hours later we were parked in our position over looking Marmaris which is about four miles away.
The marina prides itself on their wonderful restaurant, workers canteen where you can eat a cooked breakfast, lunch or dinner for 7 lira which is about £2, swimming pool, sauna, gym, garden with seating, library, supermarket and a good supply of marine shops.  At first it all seems to be too large but it does not take long to fall into the pattern of life here.  The bus to town stops outside the marina gates and there is a 9 o'clock radio broadcast giving details of what is happening, weather, entertainment and any help needed.  Happy hour is from 6 to 7.30 p.m. and the beer is cheaper than the supermarket during this time and you sit in very nice surroundings.
We are busy putting everything away and making Ariel ready for the coming months.  It is surprising how quickly the summer just disappears.  While I am writing this the sun is blazing down on the marina and it is like the very best of an English summer day.  It is hard to think we will soon be back in Surrey in the chilly and wet climate!
Cannot wait for the 2014 season and the new places to discover.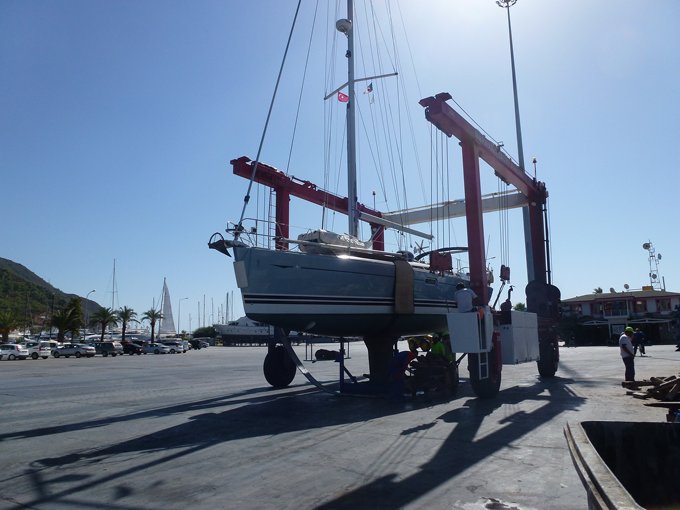 ---