36:40.56N 28:02.89E Bozburun, Turkey.

Ariel of Hamble
Jim and Valerie SHURVELL
Tue 1 Oct 2013 18:38
.Tuesday 1st October, 2013.
I was up at 4.15 a.m. as someone was leaving the harbour and were taking their time as they were having trouble with their anchor.  After that I could hear boats on the move until we got up at ten to seven as by now the wind had started to blow and the harbour was surging.  Time for breakfast and be on our way across to Bozburun on the Turkish coast. 
There were clouds everywhere and a rough sea and the wind blowing anything up to 25 knots in our faces.  Ariel soldiered on through the waves and it was not long before we had crossed over to the Turkish coast.  We thought by crossing to Turkey the wind strength may be a little kinder according to the weather forecast and we would have more shelter.  As we neared Bozburun harbour we could see lots of yachts all at anchor waiting out the wind and the harbour was full.  We therefore looked around the large bay and found a taverna buoy.  The wind was blowing and gusting but I managed to pick up the buoy and we were secure.  The chap from the taverna came out in a big dory and asked us to move in closer as the wind strength would be a little less fierce further in.  Off with the line and with the wind nearly knocking me off the deck we moved in and picked up the second one.  Our journey covered just under 15 miles.  Luckily we were tied up just before the heavens opened.  We are now resting and hoping that the storm to come on Thursday/Friday is not as bad as it is forecast.
From what we can see the small taverna's around the bay look very nice and welcoming.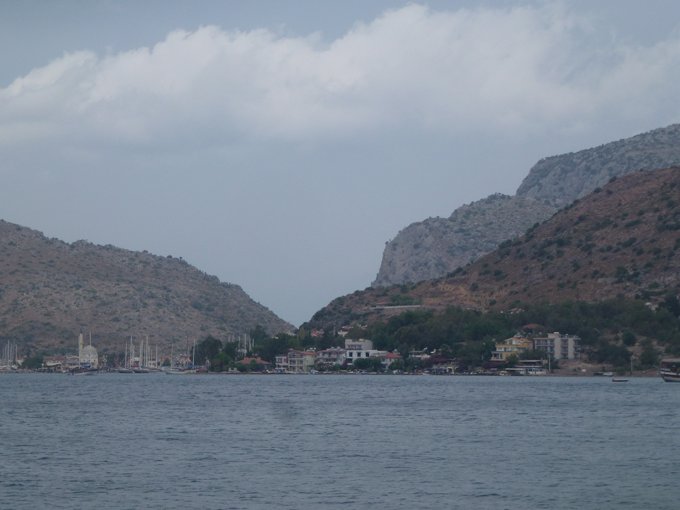 ---