Valencia Part 2

Ariel of Hamble
Jim and Valerie SHURVELL
Thu 15 Oct 2009 19:21
Valencia     Part 2
October, 2009.
One of the very best walks we have been on in Valencia is in the Jardines del Rio Turia.  Where once there was a river around part of the city is now long, very wide strips of gardens for 6 miles.  In the gardens there are lots of different areas such as a rugby pitch, several football pitches, tennis courts, numerous children's playgrounds, fountains, formal gardens, cycle tracks, running tracks, restaurants all crossed by 19 bridges of different designs.
We started our walk where the bus dropped us at the bus terminal and walked several miles only stopping for our picnic lunch among the beautiful trees. Lots of people use this park every day as the number of runners passing us was unbelievable together with the young mum's with their children.
Near the end of the walk for us we came to the Music Palace, an international class concert hall built above the riverbed during the 1980's.  Quite close to the Music Palace is a children's playground and the centre piece is a giant Gulliver pinned to the ground with slides, walkways and ropes for children to explore.
Jardin de Cabcera is a new garden being built that aims to recreate the Turia River's original landscape with particular emphasis placed on water, the garden of the former riverbed has a lake, beach, waterwheel, waterfall and riverside wood. 
At the end of our walk was the very modern Museo De Bellas Artes which is reported to have on show 2,000 paintings and statues dating from the 14th to 19th centuries.  The Imax cinema, the complex of the City of Arts and Sciences and the Palace de les Artes which all stand at the seaward end of the Rio Turia gardens.  These buildings were designed by the Valencian architect Santiago Calatrava.  A little bit further was the very modern Oceanographic Park building which we saw but did not venture to.
We wandered back through the old city to catch our bus back to the marina.
The weather was again warm and sunny and around the 28 to 30 degrees.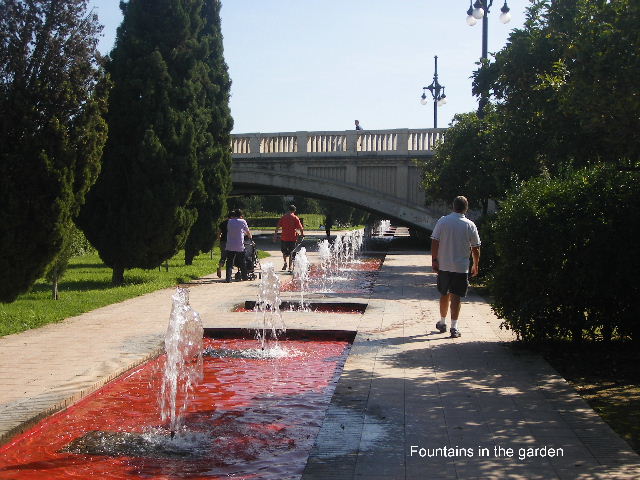 ---