40:36.71N 09:45.20E La Caletta

Ariel of Hamble
Jim and Valerie SHURVELL
Mon 23 May 2011 14:40
11th May, 2011.
After having two nights in the La Maddalena island marina we set off on our journey south down the east coast making for Cagliari where we were to meet our friends of one year from Lymington, Tricia and Clive.
The day was very bright and sunny and we managed to sail two thirds of the 45 miles to La Caletta.  Coming out of Maddalena it was very peaceful as very few boats other than sailing schools were on the water.  We passed on our way Porto Cervo, Tavolara Island and Capo Figari and a few small islands off the Molara Island.  Molara is a deserted high granite island with rocks above and below the water line with three little islands called "The Three Brothers Reef".  On still nights there are many anchorages along this coast line and several marinas.  We decided to head for La Caletta in order to break our journey as we had covered 45 miles.
We pulled into the harbour and tied up along a long pontoon with several others in transit.  If at this time of year you do not use the electricity or water it is free!!!
La Caletta was once a small timber port but it is now a very small seaside village with very little life at this time of year.  Five miles south of the village is the old port which was destroyed by the authorities to prevent it being used by smugglers. It is so sleepy it is hard to imagine any smuggling problems.
The scenery along the east coast is beautiful and we are very fortunate to be able to see it from the water.  At this time of the year it is very green and the high mountains have an amazing effect on the whole area.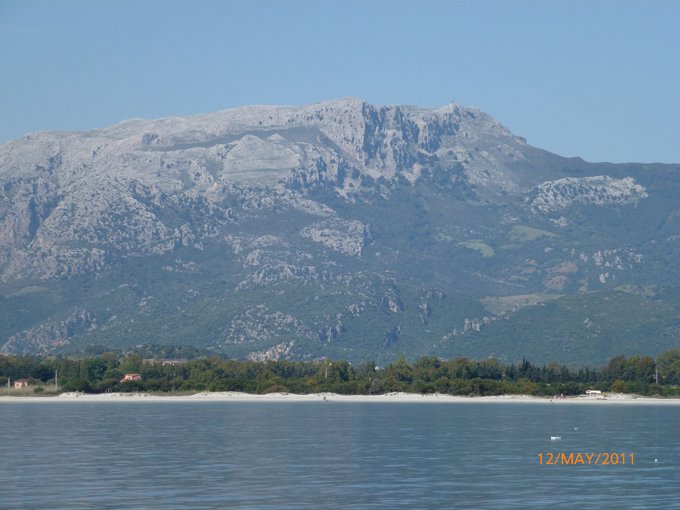 ---