44:19.07N 09:12.86E Portofino

Ariel of Hamble
Jim and Valerie SHURVELL
Thu 22 Jul 2010 20:19
44:19.07N   09:12.86E       Portofino
10th July, 2010.
After a day of sight seeing, shopping and washing we were ready to move down the coast to Portofino for a few days until Lizzie and her friend arrived on Tuesday.
The scenery past Bogliasco, Camogli, San Fruttuoso around to Portofino was beautiful.  Unfortunately, being Saturday the bay at Portofino was very busy so we anchored and swam at Sena Canne.  The wind increased slightly so we moved into the harbour at Santa Margherita Ligure and anchored with the big boys in the bay.
Jim and I spent several days here enjoying the beautiful shops, (mainly the bread shops) listening to the music being played from top of the castle and walking in the Durro gardens. It is a very relaxing town with lovely warm water for bathing from Ariel.  The temperature is now up to 27 degrees. We did look at the public beach but it is all grey slate stones.  Everywhere else along the beach is fenced off into hotel beaches with coloured parasols, sun beds and changing huts.  These areas are very exclusive and most serve lunch from the bar.
We watched the final of the world cup in a bar and strangely the Italian's were not very interested.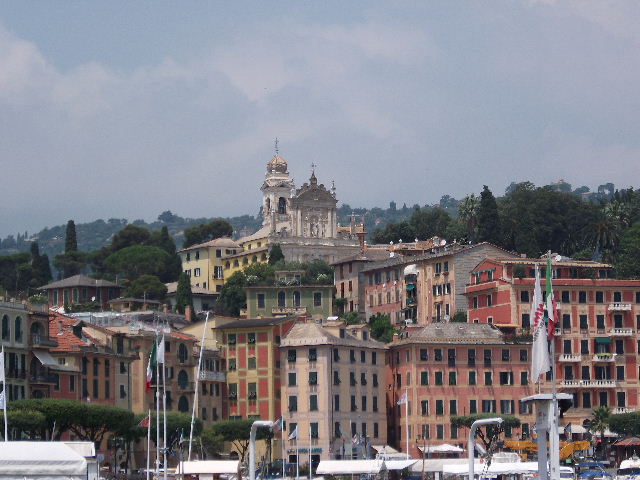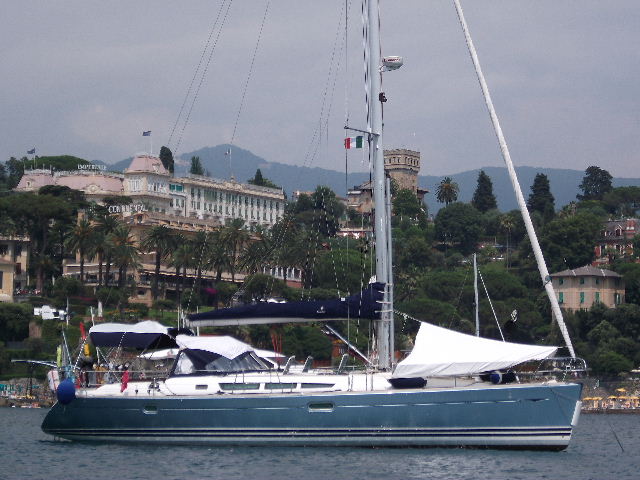 ---