Bandol Tuesday 1.6.2010.

Ariel of Hamble
Jim and Valerie SHURVELL
Sat 19 Jun 2010 07:56
Bandol        Tuesday 1.6.2010.
As Ariel was safe and we could not move out of the harbour as the wind was still as strong we took the bus with Trisha and Clive to Bandol. Bandol is still in the large bay situated between La Ciotat and Sanary sur Mer.  We wanted to check out the marina just incase the wind abated a little and we could make a move.
Bandol is a very stylish Cote d'Azur resort.  Palm trees line the promenade along the harbour wall.  Houses have been built in the hills overlooking the town.
Just a short distance from Bandol is the Ile de Bendor owned by the "pastis" magnate Paul Ricard.  The small island contains 2 hotels, a diving school, arts and conference centres and a museum dedicated to wines and spirits.  Day trip boats visit the island every 15 minutes from the harbour. As a 22 year old Paul Ricard painted pictures in Marseille but his father a wine grower insisted he gave up his life and got a proper job.  He went home and experimented with aniseed and put together "pastis" and has never looked back.
He used expensive Chinese ingredients but he now grows cheaper plants for "pastis" in the Camargue area where he also farms bulls for French bull fights which are very popular in the area.
A number of large cruisers are all moored along the harbour here.
We visited the church, wandered around the streets in the heat and made for the waterfront café for ice cream and beer. A good end to a nice visit.  Thank goodness Ariel was safe and sound moving back and forth with the others with still no let up in the wind.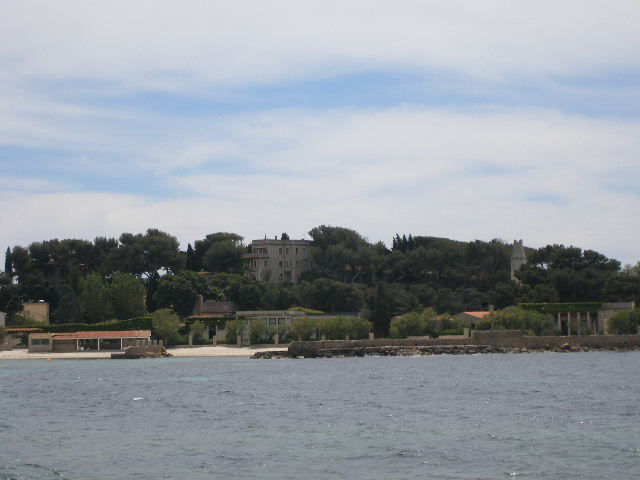 ---