37:19.360N 023.09.083E

Ariel of Hamble
Jim and Valerie SHURVELL
Sat 21 May 2022 06:56
Porto Heli 20/5/2022

We left the quay at Nafplion after a considerably quieter night as the wind dropped around 7 ish. As we woke up we could hear it start to scream over the water. Jim said we can't have another day of constant beating of the boat so we left as soon as we had had breakfast.
There were concerns that the Sailings Holiday boat next to us had dropped its anchor in their panic to get in over our anchor. Fortunately for us no our anchor was free. Off we went out of the harbour passed the fortress between the red and green buoys to be met by the cruise liner Celebrity Beyond and a smaller sailing vessel Windstar also a passenger paid cruise liner.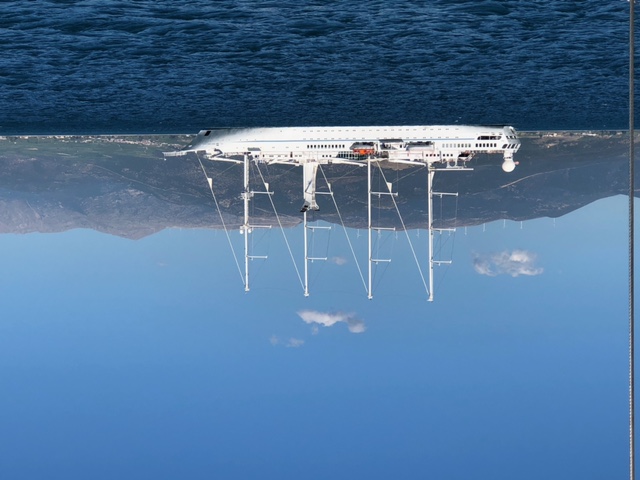 After tidying up the fenders and lines we were off to Porto Heli. The wind at its most was 34 mph and we were tramping along at most times 10 to 12 knots but we did manage 14.7. Ariel loves the wind and with the genny only as the wind was from the north to north east. After we passed by the entrance to Kilada the wind screamed down off the mountain and we had to take some genny in. Unfortunately, Jim lost his tilly hat which he has sailed with in the southern Atlantic in an all mighty gust. Nothing he could do I was on the electric winch and he was controlling the line on his side. The hat landed in the water and gracefully floated off. There was no way we could have gone back for it in the rough sea we had and I don't think it would have been floating long with the rough waves. He was very sad 😞 but quick later in the day to order a new one.
It was a pleasure to see the entrance to Porto Heli and we rolled the genny just before turning in the entrance. The wind was very strong and Ariel's engine had to work hard to get into the big bay. We found a spot although we had never seen so many boats anchored here. It had taken us just on four hours from letting the lines go until the anchor was down in Porto Heli. The wind did drop slowly but didn't really drop until around 9 o'clock when the sun had set and gone. We had a nice quiet night with music 🎶 in the middle of the night from the local bar/club but very acceptable and you could drift off to sleep.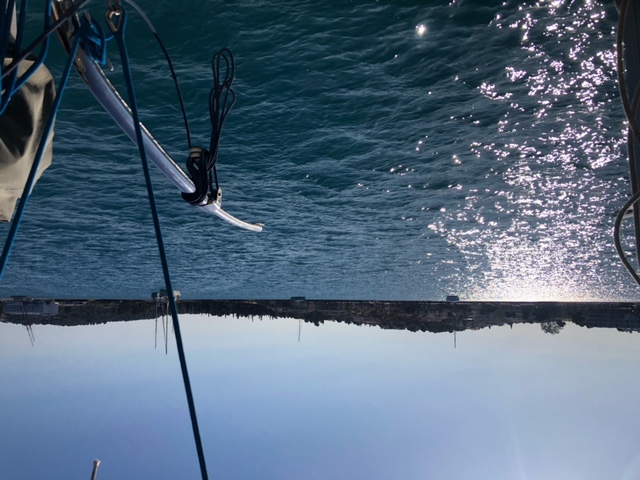 ---