43:23.78N 03:41.97E Sete

Ariel of Hamble
Jim and Valerie SHURVELL
Sun 16 May 2010 20:35
43:23.78N  03:41.97E        Sete
12th May, 2010.
At 10am we decided to leave Collioure as the clouds over the mountains looked quite black a big squall was brewing and rain was not far away.  A visit to the large Castle/Chateau ashore didn't seem a good idea.  Before we did we were treated to a display by the army not far out from the shore in a small bay across the cove completing an obstacle course in full uniform in the water.  As we sailed away from Collioure we could see the intensity of the squall building in the Pyrenees mountains and descending on Collioure and the surrounding area.  In a good breeze we sailed fast onwards towards Marseilles.  Reef 1 was soon in the main as the wind rose to 19-20 knots over the deck.  Our planned stop was at Carnon-Plage but after just over 50 miles in 7 hours the wind started to die at just after 5pm so a change of destination was made to Sete.  A small marina of just 245 berths in a large commercial harbour.  To find a visitors space was difficult but then a couple of French local berth holders called out and indicated a space and helped us to berth.  A good day 58 miles in 8 hours.
On the way we were circled and observed by an helicopter which appeared very interested in us.
In the evening and the next morning we discovered what a chance find Sete was.  A Sete is truly a Gastronomique experience.  A large fishing fleet operates from the port and lining the harbour and a small canal that goes through to the Etang de Thau an inland lagoon, are dozens of lovely looking restaurants, offering fresh oysters, mussels and all types of fish and speciality of bouillabaisse.  The oysters are farmed in the Etang de Thau.  In the morning we went to the town market hall and the fresh fish displays were some of the best we have ever seen.  Some really fresh tuna was being cut up so good size steak was purchased for dinner, with some beautiful fresh vegetables and strawberries.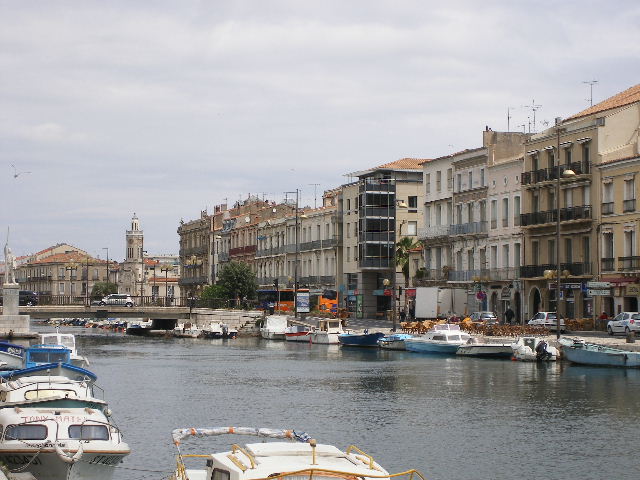 ---