36:32.545N 06:16.989W CADIZ Part 2

Ariel of Hamble
Jim and Valerie SHURVELL
Sat 15 Aug 2009 20:02
36:32.545N      06:16.989W   CADIZ   Part 2
9th August, 2009.
The city of Cadiz is situated at the end of a long promontory.  It is believed to be founded in 1100 BC by the Phoenicians and was later taken over by the Romans.  As it was located on the fringe of Europe, Cadiz was in the middle of the lucrative trade world with the New World after America was discovered.  Cadiz was burnt down several times by the English, firstly in 1587 by Sir Francis Drake who delayed the departure of the Armada and then in 1596.  During the Napoleonic Wars, Cadiz was bombarded and the Spanish fleet destroyed off nearby Cabo de Trafalgar by the British Navy under Nelson.  Cadiz enjoyed long periods of prosperity which can be seen in the grand buildings in the city.
We walked into town from Puerto America marina along a palm tree lined esplanade into the long narrow streets with double storey buildings with balconies making the old town feel shady and cool.  Being Sunday most of the shops were closed so we did not experience the busy street life, only couples and families were walking around.  Like us they were looking at the old buildings with decorated tiles and pictures and glimpsing into the private courtyards. 
We stopped for lunch in the old town and sat outside in a lovely courtyard sampling the local beer and menu.
We visited the Torre Tavira tower and with a fine example of "camera obscura" which gave live optical moving images of the city outside.  The guide gave a very interesting talk for 20 minutes pointing out all the places of interest and the watch towers around the city.  We then walked to the cathedral and looked at the building from the outside and we then joined all the Spanish families walking along the causeway to the castle San Sebastian.  The temperature was over 30 degrees and many were enjoying swimming in the sea.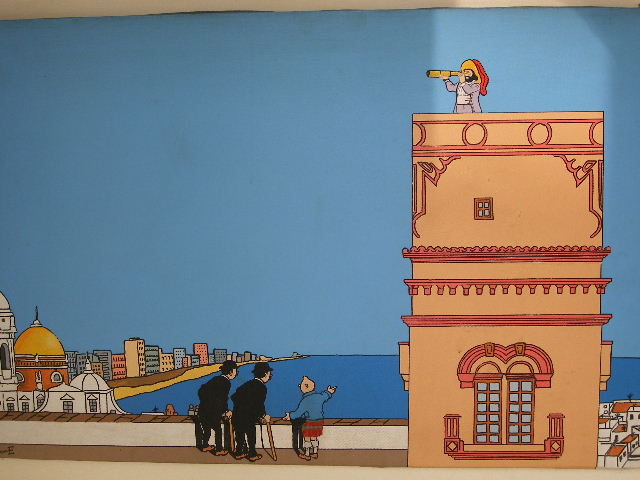 ---