Valencia Part 4

Ariel of Hamble
Jim and Valerie SHURVELL
Sun 18 Oct 2009 17:17
Valencia    Part 4
October, 2009.
Valencia is a lovely city and we spent a little while at the city railway station looking at the decorative ceramic designs on the outside and the tiling around the walls and ceiling inside.  It began being built in 1906 and took until 1917 to be finished.  It is in a style inspired by Austrian Art Nouveau.  The exterior is decorated with orange and orange blossom flower motifs whilst the inside, ceramic murals and stained glass in the foyer and cafeteria depict the life and crops of the L'Albufera area which is a freshwater lake situated on the coast just south of Valencia.  L'Albufera is one of the prime wetlands habitats for birds in Eastern Spain. It is cut off from the sea by a wooden sandbar, the Dehesa, and fringed by a network of paddy fields which produce the third of Spain's rice.  L'Albufera is fed by the Rio Turia and connected to the sea by three channels which are fitted with sluice gates to control the water level.
The square around the railway station is packed with interesting buildings like the bull ring, Saint Augustine's church, apartment blocks with marvellous roofs and the main post office.
In summer, the bars and cafes of Valencia offer a thirst-quenching drink unique to the area.  Horchata is a sweet, milky drink produced mainly in the nearby town of Alborais from "chufas" (earth almonds).
It is served semi-frozen or in liquid form and usually eaten with "fartons" (bread sticks).  Jim and I did try some but probably the once will be enough as they do also serve a very nice semi frozen lemon drink which is wonderful.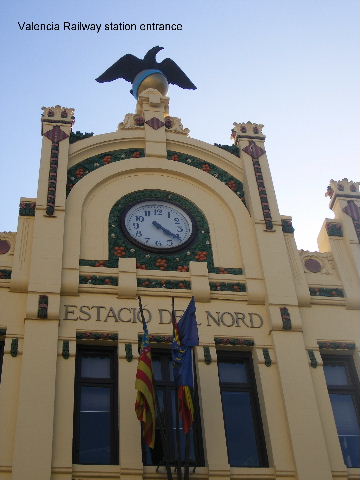 ---