Orhaniye village walk

Ariel of Hamble
Jim and Valerie SHURVELL
Tue 8 Oct 2013 13:13
Tuesday 8th October, 2013.

We wake up to total peace and quiet and from our bed we could only hear a car now and again on the mountain road.  There was no wind and we enjoyed breakfast in the cockpit where a bee landed looking very weak.  Several were in the water probably after quite a chilly night.  We gave him a little honey and within a few minutes seem to recover and a little later flew off.  Our good deed for the day!
We decided we needed to have a walk and view our surroundings.  We stopped for coffee at the jetty where we left the dinghy.  The jetty is set up for visiting boats with a open air restaurant, showers, laundry, supermarket and sun beds on the dark brown gritty sand for everyone to use.  In their drive way is a haul of a large old ship left to die.
We walked around the bay and headed towards the village.  It is very rural here with everyone having chickens in their gardens, cows, goats, and sheep all roaming their land with a large amount of vegetables growing in very dark good looking soil.  Each house seems to have quite a few different fruit trees all producing fruit like oranges etc.  One field was given over to potatoes and there were at least 10 ladies all picking through the potatoes.  Another area was filled with branches and tree trunks which had been cut for the winter. A very simple way of living!
Dozens of people this afternoon walking as far as they can along the sand spit.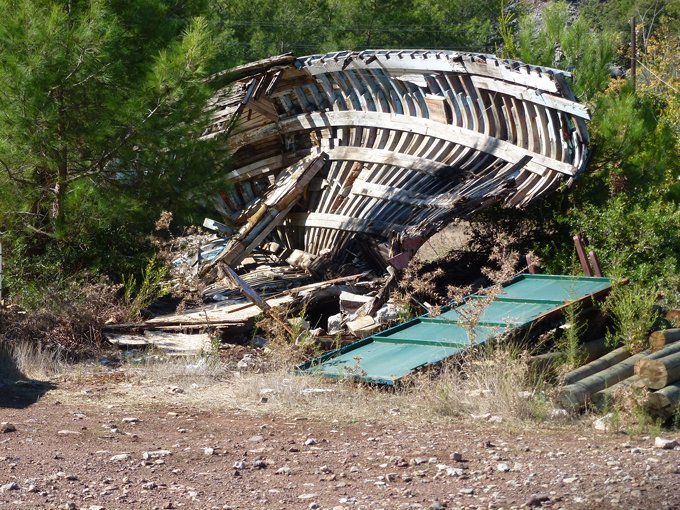 ---