36:37.34N 29:05.68E Fethiye

Ariel of Hamble
Jim and Valerie SHURVELL
Wed 4 Jun 2014 18:00
1st June, 2014.
After our morning visit to the Blue Monkey for our coffee and swim we returned to Ariel for lunch.  The clouds started to build and once lunch was over and the washing up done Jim called for us to move as soon as possible as the thunder and lightning could be heard and be seen and the mountains were disappearing in the mist.
Thank goodness we took up the anchor and we were making for Fethiye.  The storm made Gocek disappear as we looked back and although we were being buffeted by the wind and waves Jim kept the course and we motored at 3 knots as the storm was following the mountain line.  At times the rain was coming down so hard it was hard to see.  We could see Fethiye in sunshine so we knew the storm was not hitting them.
After one storm another built and it was not long before the thunder and lightning started again.  Just as we got to Fethiye bay the storm had reached the town and it was now very misty.  We followed the big bay up to the marinas and anchored safely in 10 metres just near the beautiful big hotel.  It was quite an experience for Christine on her first trip out on Ariel but she was very safe.  The morning weather forecast had not mentioned any rain, thunder and lightning but we have learnt the big mountains can cause quite a different forecast for the area and we are just on our toes watching the wind all the time. 
Our journey across the bay was 11 miles.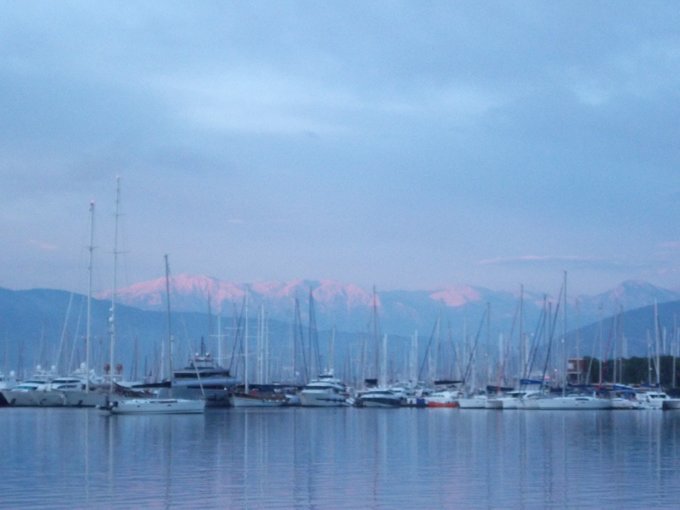 ---