40:14.25N 23:16.72E Moudania (Broken Harbour)

Ariel of Hamble
Jim and Valerie SHURVELL
Tue 11 Sep 2018 10:24
Monday 16th July, 2018.
We were up early after a slightly disturbed night as the locals were busy in the dark launching small fishing boats not much bigger than dinghies and the wind changed and blew into the bay.
We motored around the first headland and once we got to the second one the wind had come in.  All morning the wind became stronger and stronger and the sea became more confused with short waves.  Ariel sailed on up and down the now much bigger waves and with a few splashes over the deck as we went.  We covered the 47.16 miles in quite a fast time bearing in mind how the wind had changed.
As we neared broken harbour we now had the problem of slowing down Ariel.  No room on the broken pontoon as little dinghies or motor boats were there before us so we had to tie up on the fishing boat quay. In the Cruising Association discussion group news we had been told that the Port Police move you on if seen on the quay.  We spent the night there and never saw any officials at all only locals fishing.  Two sardine boats went out in the late afternoon.  It was ideal for us as we had dinner in the fridge and everything we needed on board.
The sun set was beautiful.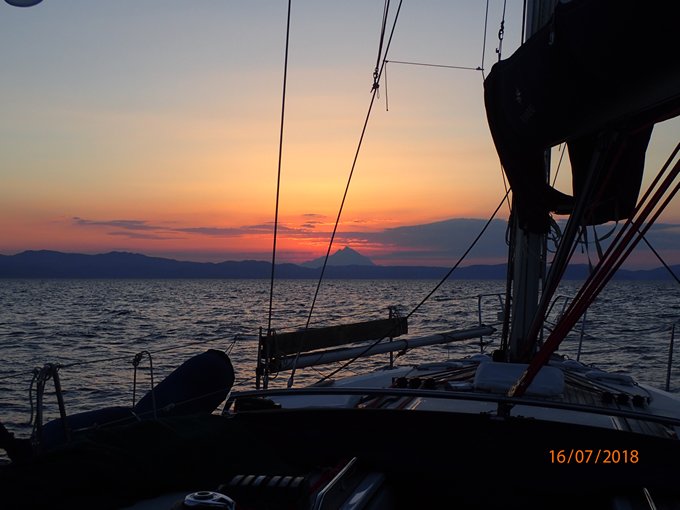 ---