39:14.25N 20:07.92E Paxos

Ariel of Hamble
Jim and Valerie SHURVELL
Thu 28 Jul 2011 06:03
Monday 18th July, 2011.
We left Gouvia marina in the early afternoon for Paxos island 8 miles south of Corfu.  The wind was very favourable all along the Corfu coast for sailing and we passed by Pontikonisi, Benitses and Kavos.
Once out from behind the headland of Kavos on leaving Corfu we encountered 16 to 17 knots of breeze passing between Corfu and Paxos.  We reefed and Ariel crossed the water doing 8 to 9 knots and we enjoyed the full breeze and quick passage time.  A Jeanneau 42 who had been giving us a little race down the Corfu coast battled on without reefing and got rounded up twice before taking some action.  We were anchored, tied up with lines to the rocks (another first with Geoff and Vivienne's help) and having drinks before the 42 arrived in Lakka bay.  We had covered over 35 miles from start to finish.
The anchorage is at the north end of Paxos island and with marvellous cover from the land.  The water is gin clear and aquamarine colour and although not as warm as Gouvia it is very pleasant.  The hills are covered with olive trees which is still a big part of the island's economy and pines with small houses dotted in the hills. Apricot and other fruit trees are growing everywhere.
On the quay where many yachts moor are several large taverna's all with pretty table cloths and fresh fish cabinets on display to welcome you in to their establishment.  Behind the quay is an array of small shops selling anything from silk hammocks to drink mats and more restaurants.  As I already had dinner awaiting us after our evening stroll we had to pass up the wonderful mouth watering legs of lamb which were being spit roasted at the pizza restaurant.  Perhaps we will be back another day!
Paxos is suppose to be the romantic hideaway of the god Poseidon who created the island for his mistress, Amphitrite.  It is suppose to have risen from the azure depths of the Ionian Sea emerging from the crystal waters through the power of the divine couple's love.  Its small size has saved it from the turbulent history of its larger neighbours.  We took the dinghy to the beach this morning and after a long cold coffee at the beach taverna climbed up to the top of the cliffs and walked to the lighthouse which takes in the 360 degree view of the island and across to Corfu and the mainland.  We found some lovely apartments high on the cliffs with beautiful pools with the view over the bay.  Paxos is a wonderful place for a quiet relaxing holiday with lots of restaurants to try over your stay.
We stayed another night and of course we tried out the roast leg and it was delicious!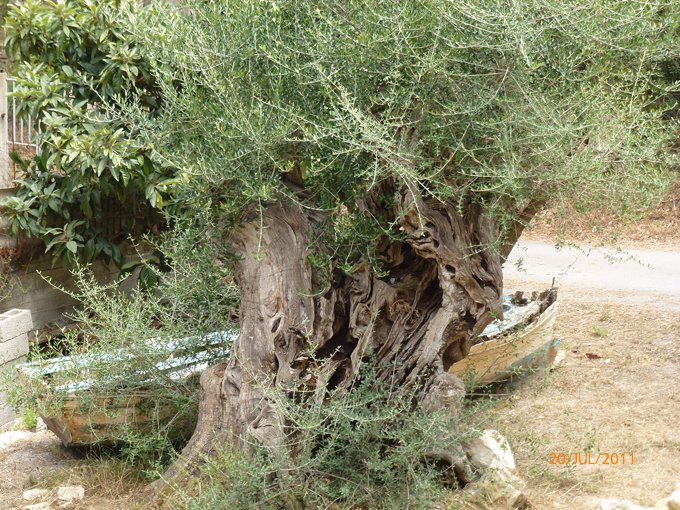 ---