43:03.01N 09:50.38E Isola Capraia

Ariel of Hamble
Jim and Valerie SHURVELL
Thu 29 Jul 2010 19:47
43:03.01N   09:50.38E    Isola Capraia
Jim and I left Livorno the next morning early for the sail over to the island of Capraia which is between the mainland of Italy and Corsica.  We covered 35.39 miles and sailed three quarters and had to motor sail the last few miles as the wind died.  Unfortunately, the wind came up during the evening and we were awake most of the night.  Our Delta anchor and 60 metres of chain kept us safe but we watched many others dragging and having to reposition themselves several times.
The next day we moved to the small bay next door which had a fish farm outside its entrance which stopped the swell and roll which we had experienced the night before.
Capraia is known to have had settlers in Roman times as there are ruins of a large Roman villa.  Later it was home to monks who according to Pope Gregory the Great lapsed into "unorthodoxy and loose behaviour". He sent an army to put them back on the orthodox path.  Boswell while travelling by ship from Corsica to Genoa in 1765 encountered a northerly gale and landed at Capraia. He stayed with the Franciscan monks and wrote a detailed description of the island.
Like most of the Tuscan islands Capraia was invaded by pirates for several centuries.
Nelson captured it for a short time but did not retain it for long. The island was once a prison island and parts could not be visited but it was closed in 1997.  Today the island relies on tourism, such as dive schools offering holidays, letting of cottages and daily day trippers arriving by ferry. There are several small hotels but there is no beach only rocks to enter the water by.
We met a lady who is developing a small development of apartments in the castle grounds with beautiful views but it is for those who would enjoy walking or reading as the island is very mountainous with Mount Arpagna at the northern end of the island standing at 1467 feet.  The only way to the island is by your own boat, ferry or helicopter.
We spent 3 nights at anchor here and enjoyed swimming from Ariel in clear water.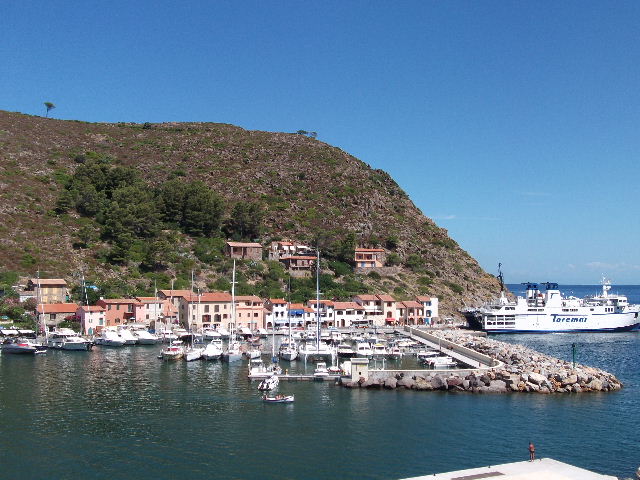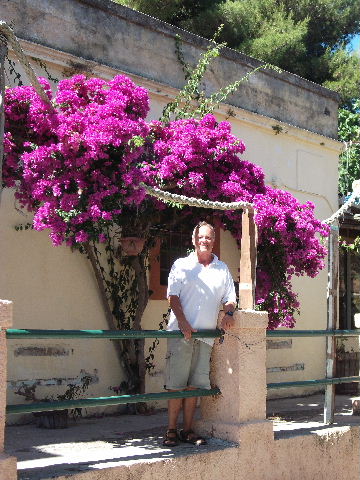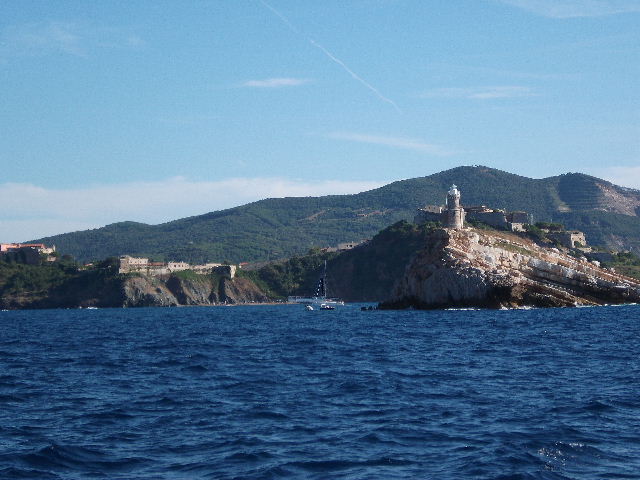 ---