37:25.78N 24:56.44E Ermoupoli, Siros.

Ariel of Hamble
Jim and Valerie SHURVELL
Mon 23 Jun 2014 15:47
21st June, 2014.
We had a great 16.89 mile sail from Mykonos to Siros with a constant steady breeze.  We knew the harbour at Ermoupo lihad been closed to yachts for a weekend rib festival so we motored up to the "new marina" which has never been finished a good 25 minutes walk outside of town. Although not very big and with every space been taken by small boats we spotted a single space and were lucky enough to fit. No services of electricity, water or electric light and just by a coal fired power station it was a safe haven for the night.
After lunch we walked into town and were pleasantly surprised to see the rib festival in full swing. Tugs were using water cannons to spray the ribs that came into the quay to be announced to the crowd.  A light aircraft kept circling the town and on two occasions flew between the tugs probably no higher than 100 feet.  A little non health and safety for our liking but this is Greece.  Everyone involved seem to have a great time.
Ermoupoli was named after Hermes who was the god of commence and it is the largest city in the Cyclades.  In the 19th century it was Greece's leading port and a major coal station with a huge natural harbour and thriving shipyard.  Two mountains covered with houses and each with its own cathedrals at the top look down over the harbour.  The big square is one of those places where people would walk, sip coffee or meet their friends with restaurants and bars all around.  As we came to the square out came a bride and groom from the town hall which was built in 1876. It was very low key but the bridegroom did have a buttonhole flower but no tie!
We thought we would walk along the front after the harbour but every house which look like little Venice has its own frontage and therefore there is no path to be able to walk.  It did look very nice and a great place to live.
We will come back to Siros again in the next few years as it was a very interesting place and we would like to explore more.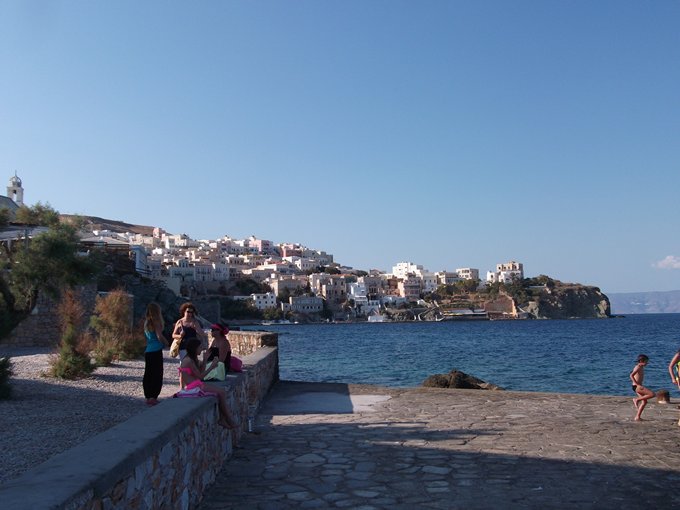 ---