Kemer

Ariel of Hamble
Jim and Valerie SHURVELL
Sat 26 Apr 2014 18:33
April, 2014.
We left Cappadocia and travelled all day enjoying the scenery and realising how independent Turkey with the amount of vegetable and fruit which are grown in the areas.  The super new roads which have been built save heaps of time but the Punto was not a happy bunny all the time as we travelled up and down the mountains.  The lorries have to take the same roads but they are all dual carriageways so it does not matter how slow they go.  As we crossed the big range on our way to Antalya you could imagine it may have taken a lorry all day to complete the drive it was so far.
We hit Antalya at going home time and we sat in the traffic jams worse than London.  As soon as we escaped we found a lovely restaurant and relaxed.  Jim had big ideas on sleeping in his own bed but the distance was to great so we stopped at Kemer.  Five star hotels everywhere but we did find an excellent hotel which turned out to be all inclusive but we didn't get there until 10 p.m. but we did manage a glass of wine in the bar overlooking the pool.  The next morning we experienced the most wonderful breakfast ever.  Everything you could think of was on offer.  It was shame we had to leave but we needed to get back to Marmaris.  The hotel was across the road from the beach so in daylight we realised why the five stars were all on that side.
We stopped at Finike, Kas and Kalkan to look at the harbours for Ariel tours in the future.  We arrived back in the evening to Ariel very safely on the pontoon where we left her.
This week we have been polishing again and when Jim changed the oil he realised we had developed an orangery leak which could not be left.  An engineer came and removed the part after having to jack up the engine and the part has gone to the service department to be repaired.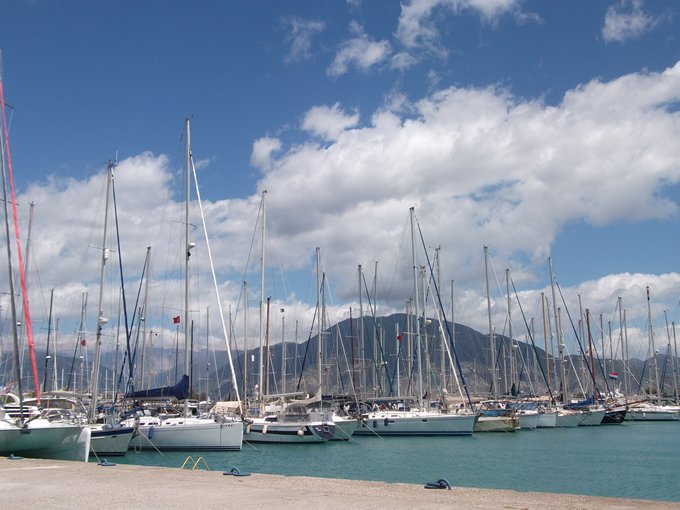 ---