37:50.63N 15:17.11E Lipari to Taormina

Ariel of Hamble
Jim and Valerie SHURVELL
Sat 25 Jun 2011 13:22
20th

 

June 2011
After shopping in Lipari town for provisions and then a visit to the fuel pontoon we set off from Lipari to the Messina Straights a narrow passage of water 3-4 miles wide between the North East corner of Sicily and mainland Western corner of the heel of Italy. 
It was a beautiful sunny morning with a light breeze almost dead on the nose some we motor sailed.  The distance to the straights is about 36 miles.  We passed the island of Volcano with a lot of steam/smoke coming off the North eastern slopes and headed down towards Sicily.  Soon we could see the large shape of Mount Etna and its Northern slopes.  We were sure that what we could see on the slopes was snow but it seemed hard to believe at the day before mid summers day.  The breeze went onto the beam a little so we were eventually able to sail as we approached the narrows.  We had to time our arrival so we could have South going tide into and through the straights as it can reach 4 knots of tidal flow going South for 6 hours and then turn North for 6 hours.  The calculation of an arrival at or around 5pm in the afternoon was favourable and we were right on target to be there at that time.  The straights are famed for the power of the tide and the large whirlpools that exist in the narrows.   As we entered the straights the North West breeze died and the genoa forsail was rolled.  We had a terrific view of 2 swordfishing boats that passed close by.  One of the fishing boats had 3 men at the top of the lookout gantry trying to spot swordfish.   After about 3 miles motoring South a new North breeze was found and we began to sail again with full mainsail and poled out genoa forsail.  Very quickly the new breeze from the North rose to 22-23 knots of true wind.  We surfed over some patches of disturbed waters and it reminded the crew of Hurst Castle narrows between the Isle of Wight and the Hampshire coast and the strange wind against tide waters around Portland Bill.
The wind rose further to 25 knots true and so the poled genoa was rolled and we surfed on.  The destination of Taormina was about 30 miles away.  At times Ariel surfed at up to 10.1 knots so the miles were eaten up quickly.  Just as it got dark a lonely male bottle nosed dolphin came for a quick look at us but didn't stay.  The lights of Taorima looked magical as we arrived at just after 9.30pm and anchored in the bay next to our friend Clive and Trica on Moineau.  Time for Cock au Vin dinner that was cooking in the oven.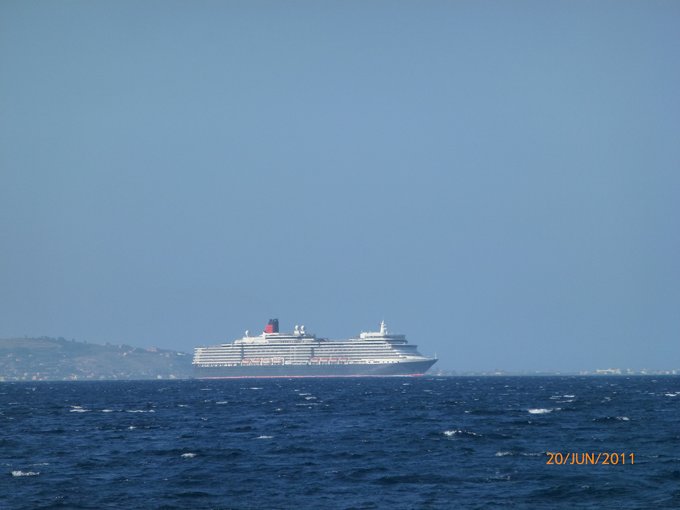 ---