46:43.631N 02:20.730W Ile d'Yeu Part 3

Ariel of Hamble
Jim and Valerie SHURVELL
Sat 13 Jun 2009 19:51
46:43.631N 02:20.730W  Ile d'Yeu     Part 3 
11th June, 2009
Wednesday was back to rain and we did not venture very far but Thursday we woke to blue skies and sunshine.  We got the bikes out and cycled west from the marina half way around the island past the lighthouse and the grass air strip.  We were not the only ones and we kept meeting up with a party of school children who were obviously holidaying on the island with their teachers and helpers. The scenery is so pretty you keep stopping to view it.  On this side of the island are shore battery gun emplacements.  This small island was obviously affected during the Second World War.
We cycled back to Ariel for lunch and later thought it was a shame to waste this beautiful weather so we rode to the other end of the island to view the beautiful beaches.  This is a beautiful island for small children as there are so many beaches to choose from. We paddled in the sea and sat for a while before we rode back very slowly.  This is all part of getting a little fitter I keep telling myself.
It is lovely to see quite a few fields planted with vegetables and together with the fishing boats the island survives with the help of the tourist season from June to September each year.
Ferries take people to Fromenthe on the mainland each day and at around 7.30 pm each evening a large selection of cars appear to wait for the last ferry in to collect the workers who communicate each day.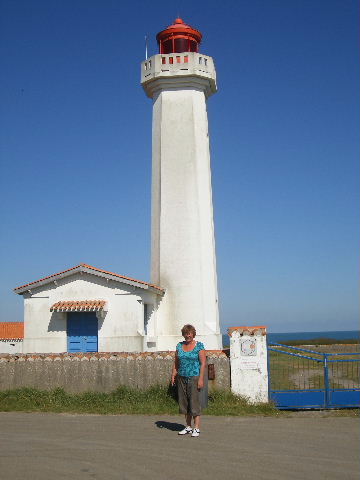 ---