39:09.20N 23:12.79E Milina, Greece

Ariel of Hamble
Jim and Valerie SHURVELL
Tue 23 Jul 2013 17:07
Saturday, 20th July, 2013.

Last night at Orei we were treated to traditional dancing with wonderful costumes.  Hundreds of chairs were positioned on the quay and local people filled them.   There must have been at least 50 dancers of both sexes together with a group of older children.  The audience were very appreciative and clapped at the end of each dance.  When we went to bed after 12 o'clock the dancing was still going on.
Before we left in the morning we went for a stroll along the coastal road to enjoy this lovely little town.  Jim spotted the fish seller and we bought 6 small red snappers for dinner.  We said goodbye to an Italian couple who had been aboard Ariel  for drinks the night before and we set off on this beautiful morning for Milina to find Jim's friend Chris Wicks and his wife who have settled here.
The bull was found in 1965 in the bay and brought ashore for the local people to see and enjoy.  It must be hundreds of years old.
We managed to sail across the Oreon channel and into the Volos channel and bay passing Trikeri and the island of Trikeri where a sailing race was about to begin.  We kept out of their way and motored on into the bay of Vathoudhi where there is a big Sun Sail base.  The bay is lovely as it is in the shelter of the Alatas island which is long and thin but completely protects this small bay.  Our journey covered 21.8 miles.
We were very lucky to pick up a buoy and position ourselves away from the Sun Sail pontoon but close enough to be able to dinghy ashore and walk into Milina which is about two miles away.  Chris had told us he was practising with his choir friends for two concerts this week and we could find him at the next little town of Horto.  We had thought of getting the bicycles out and taking them ashore but decided after we had had dinner we would be better in a taxi as time was getting short.  Thank goodness we were being lazy and took the taxi as Horto the next village after Milina was very mountainous and we would have arrived well after they had finished their session.  It was worth the 10 euros!
Yesterday we walked into town and had lunch and swam.  Last night we had the mother of all thunder and lightning storms with very heavy rain but very little wind which was good for us. Jim washed the deck this morning while it was still raining as it was easy to do it in his trunks and shirt with help from the rain.
We have now arranged for a hire car and will be here for a few days and to hope to visit Meteora renowned for their monasteries high up in the mountains.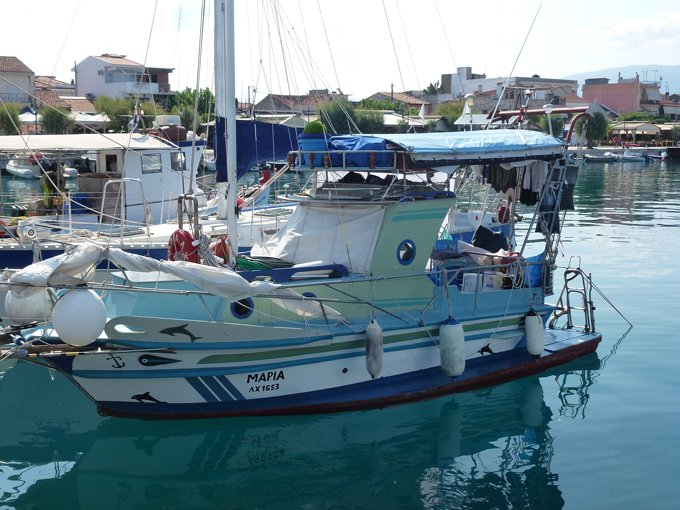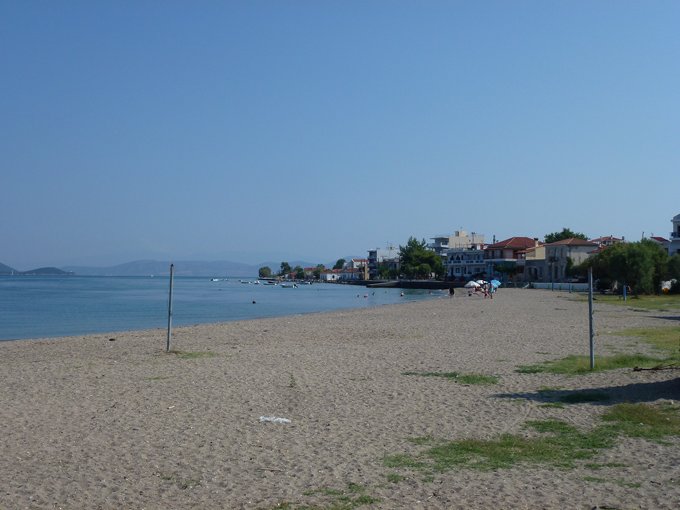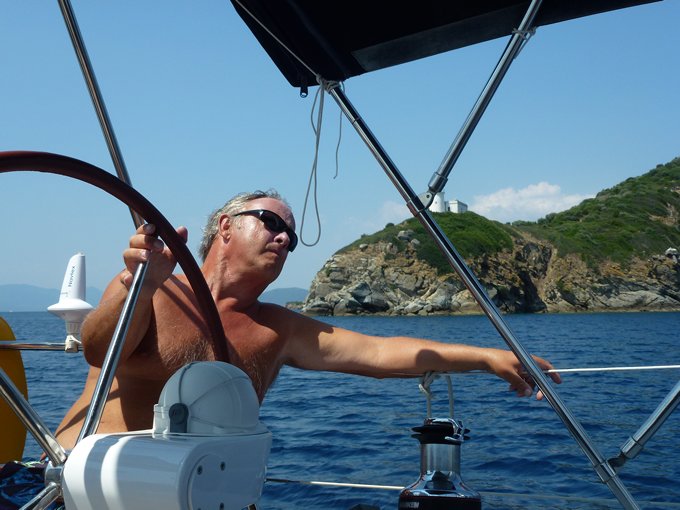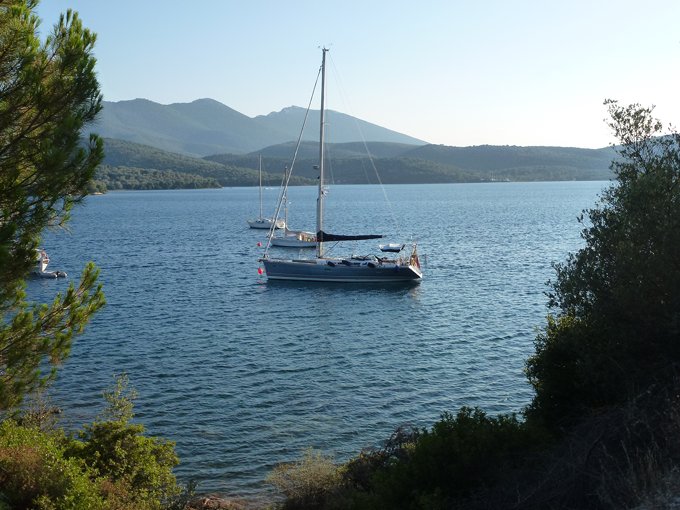 ---