37:24.81N 22:46.00E Astrous

Ariel of Hamble
Jim and Valerie SHURVELL
Sun 14 Oct 2012 10:31
37:24.81N    22:46.00E   Astrous
Friday, 12th October, 2012.
For the second night we had a rain storm and so as we left Navplion on Friday morning in beautiful sunshine with no wind so we had the main and genny up to dry them.  We motored 10.25 miles across to Astrous on the opposite coast.  Astrous is a smallish village with a lovely little harbour with a few fishing boats which go out around 4 in the morning.  The cats await their return as the fishermen sit and clean their nets and throw the cats the odd fish.  One cheeky cat I saw actually jumped on the boat and sat patiently waiting for his reward.  There are at least 10 fishermen on the wall all just hoping for a little fish.  Many go home with nothing!
The houses are built around the slopes of the harbour.   At the top of the hill is a castle which overlooks the harbour.  The small church overlooking the bay is above an open air theatre which looks over the whole beach area. The main village of Astrous is 2 ½ miles inland.
As we walked around the area it was plain to see that several big hotels have not been open this year and many shops have also been closed in the main street.  The area around the harbour is one restaurant after another and the sandy beach continues for at least 2 miles south with holiday apartments, ice-cream shops and bars.  It is hard to see how any of them make a living.  Last night we were with a German couple on the wall and tonight our neighbours are a German couple with 3 children who are on half term holidays. We are seeing very few sailing boats now and it is great to be able to moor alongside the wall.  The water is still very warm from the top to the bottom and we are still swimming most days.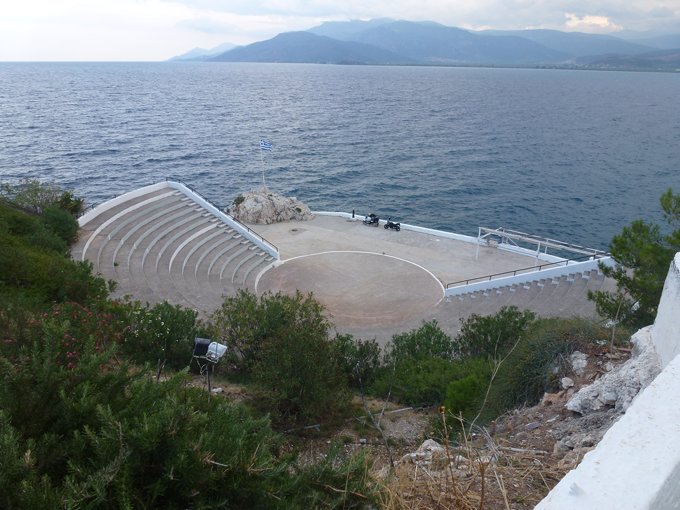 ---