41:50.56N 03:07.575E Palamos 29.4.2010

Ariel of Hamble
Jim and Valerie SHURVELL
Wed 5 May 2010 10:52
41:50.56N  03:07.575E    Palamos   29.4.2010
The 67 miles from the Rio Tordera (Blanes) until the French border is more dramatic and beautiful than any other coast line in Mediterranean Spain for cruising yachtsmen.  The coast is broken with steep rocky cliffs and can be scoured by the "tramontanes" which blow up with little notice. It is backed by the eastern end of the Pyrenees.  The scenery, the proximity of the rugged shores and the deep "calas" beneath steep sided promontories make this the most attractive of all the Costas.
We noticed lovely villas and tasteful flats all along the coast.  The prices here are definitely a lot higher than southern Spain.  During the 14.1 miles we past Lloret de Mar which looked quite sleepy, had lunch in the bay of Tossa de Mar which still retains it classic look with the castle overlooking the town and beach.  The water temperature had dropped to 15.6ºC.
The wind started to blow and we made for the marina at Palamos.  As instructed in the book we made for the fuel pontoon for further instructions and directions.  Jim took the passports, boat insurance details etc. etc. up to the office but everything was closed for the day.  Ten minutes later the security officer appeared and told us to stay where we were until the morning when the office would be open.
As we had arrived by 5 o'clock we went for a walk into town.  It is a very high class area with very expensive designer clothes and shoe shops, restaurants and fish markets.  The next day two mackerel cost me around 6 euros just under £6 but they were delicious.  The little shops all clean their frontal area up to the middle of the road with a broom and a bucket of water and there seem to be a proudness about the shopping area.
The town looks out onto a beautiful beach and town and area is generally very pretty.  There were a small group of very small fishing boats on the beach all nicely painted.
We should have guessed for an overnight stop at the fuel barge it cost us 50 euros for an early season charge.  Lesson learnt we need to ask what the charge will be first in the future.  The costs vary such a lot all along the coast.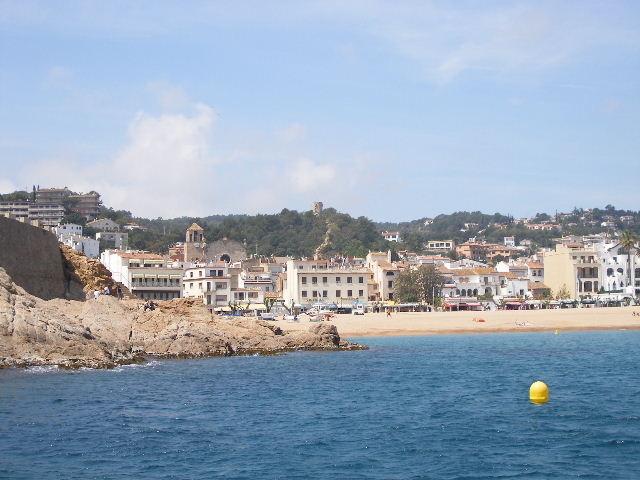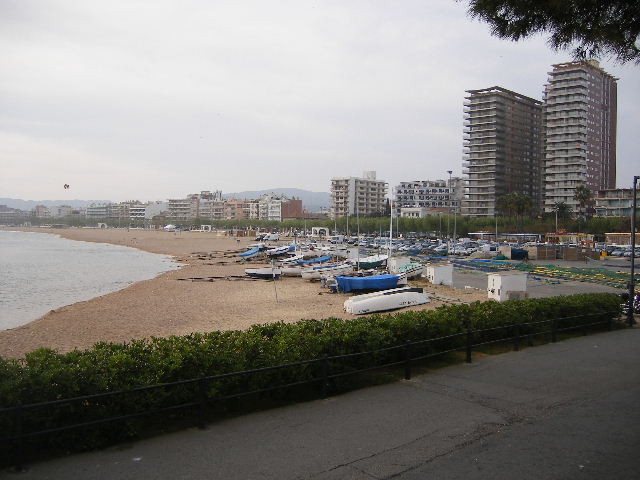 ---