40:55.97N 08:13.84E Stintino

Ariel of Hamble
Jim and Valerie SHURVELL
Fri 13 Aug 2010 18:44
40:55.97N    08:13.84E   Stintino
Onward west we move after a lovely sunny morning start to the day.  We were heading for Stintino a small fishing village about two and half miles south of the Fornelli Passage.
The wind was very favourable and we sailed the forty three plus miles tracking back and forth, reefing, shaking it out again as the strong wind would suddenly come up from a passing cloud and then drop off again.  We were happy as Ariel was going along nicely and we were enjoying the beautiful scenery and the sun was shining. Two  dolphins appeared in the late afternoon but unfortunately did not stay with us for more than 2 minutes.
As we neared Stintino we could see the Fornelli Passage and the island of Piana which lies between the main land and the island of Asinara. The shallow passage is between the NW corner of Sardinia and the island of Asinara and is a short cut saving over 20 miles not having to round the island to turn the corner and head down the west coast to Alghero. The island is now a national park and marine reserve with 4 groups of hills on the island, one being Monte Scomunica in the north at 1339 feet.  The coast is rocky everywhere with low cliffs.  Anchoring and landing is prohibited over most of the island.  It has been in relative isolation for over a century.  First it was a quarantine island, then a POW camp for the First World War and later a "super prison" for organised crime until the prison closed and in 2003 the reserve was established.
The north coast of Sardinia between the island Asinara and Capo Ferro on the south corner of Corsica form the Bonifacio Strait where the wind really does blow and funnel through.
The small marina of Stintino was full so we joined the six boats anchored outside the harbour wall.  Many others joined us by the time we went to bed.
The lightening we experienced in Elba was starting to flash late in the evening and by seven the next morning had turned into a thunder and lightening show with very heavy rain on and off for 2 hours.

 

When it finally stopped we went ashore for stores.

 

The village use to survive on catching tuna but now the tuna have disappeared from the area and the tuna factories are left empty.

 

The village has turned to tourism for a living. We saw baskets woven in the village for sale at 35 euros for a small sweetie dish and up to 138 euros for a large fruit bowl size basket.

 

Obviously, weaving takes a long time but there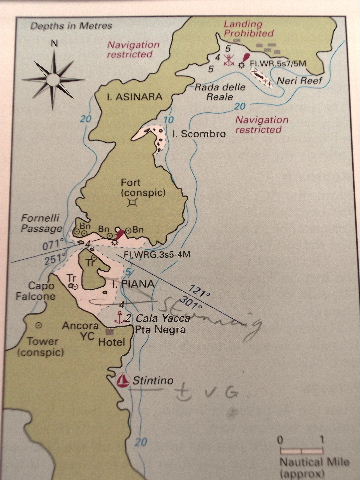 ---