36:43.33N 25:16.33E Ios Island, Cyclades.

Ariel of Hamble
Jim and Valerie SHURVELL
Sat 21 Jun 2014 16:02
Sunday 15th June, 2014.
We left Astipalaia reluctantly as it was a picture in the morning sun.  Astipalaia is last of the Dodecanese island we are visiting this year as Ios is the first of the our journey across the Cyclades.  We saw more dolphins chasing their dinner which caused a stir on Ariel as we watched and wanted them to chase us but it was not to be. Their French cousins are much more fun!
The spinnaker came out of the bag and was sunning itself for a couple of hours until the wind crept round and was headings away from our course.  We passed several islands mostly just rock like Anido before arriving at Ios and having to motor Ariel around to the other side of the island for the port.
The island is a huge place with miles and miles of rock cliffs.
Jim had one bite on his fishing line but no tea for us as the bard broke and the fish got away but it did cause some fun for a few minutes.
We have worked hard on the sails today as the wind has come and gone and then returned with some power.
Ios is a nice little island with a super little port.  We were told to come to Ios and leave Ariel safely in the harbour and take the ferry to Thira (Santorini).  We could get the ferry but go today and return the next day so we decided to give it a miss this time.  We have decided in the future to spend three months in the Cyclades as there are so many islands and places to go and most of them semi quiet.  A wonderful place to island hop by ferry.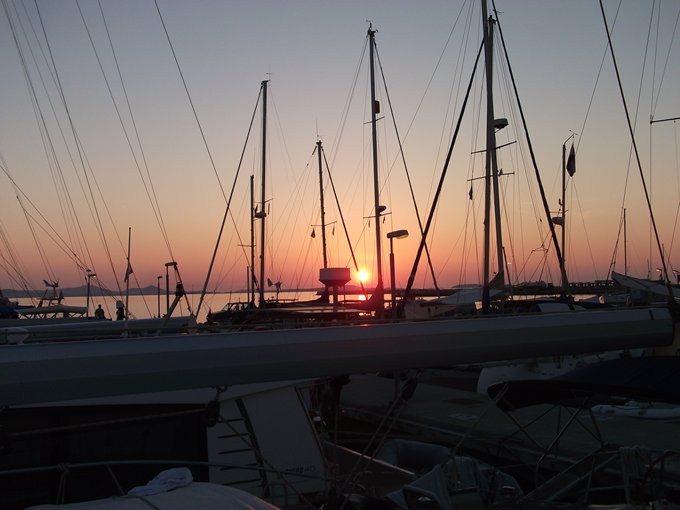 ---