Saturday, 4th August, 2012. Cephalonia Island car ride.

Ariel of Hamble
Jim and Valerie SHURVELL
Mon 6 Aug 2012 07:24
Saturday, 4th August, 2012.
Cephalonia Island car ride.
Jim hired a car and we went for a car ride around the island.  We drove north to Ay Eufimia and then on to Myrtou Bay and swam in the beautiful clear water.  It is known as the most beautiful beach on the island and after going there it is quite correct.
We headed north to Asos which is an unspoilt village on the west coast.  It is the most beautiful place on earth and we were very happy to look around the village and sit and have coffee in a tavern on the water's edge. The surrounding hilly terrain is noted for its stone terracing which is said to have covered the whole island at one time.  On the peninsula across the isthmus from Asos is a ruined Venetian fortress built in 1595.  It has been occupied by the French and Russians in the 19th century.  Mostly day trippers visit the village as there are very few apartments for accommodation. There is an old cottage on the water's edge for sale which Tricia thought would cost very little.  Later on visiting Argostoli in the estate agent's window was the very cottage at just on two million euros.
We followed the coast road to Argostoli for lunch and we enjoyed the coastal views travelling through the mountains.  We managed to see a buzzard on our way and hundreds of goats wandering.  During lunch by the water in Argostoli we saw a turtle the size of a table but unfortunately I was not quick enough with the camera.   At a taverna by the Drapanos Bridge built by the British in 1831 which is in need of lots of repairs we were shown photographs of the earthquake of 1953 and how funeral horse and carts used the bridge also.
The Fin Whale bone is on display on the quay wall.
During our afternoon ride Jim took us to Skala, Poros and back past Mount Ainos which stands at 5,350 feet high to Sami.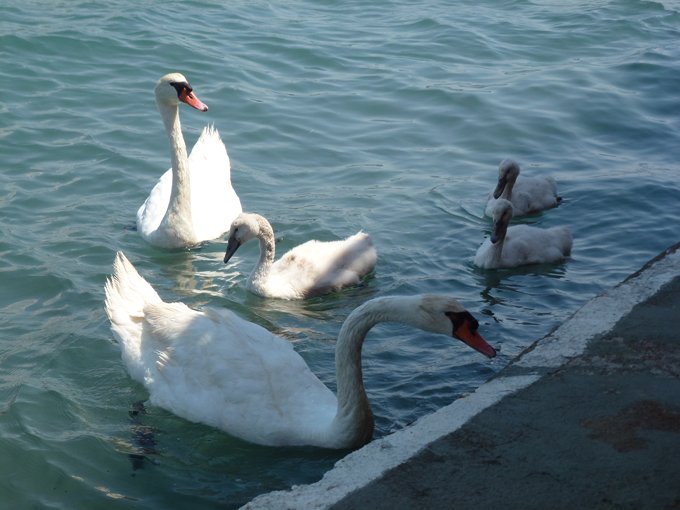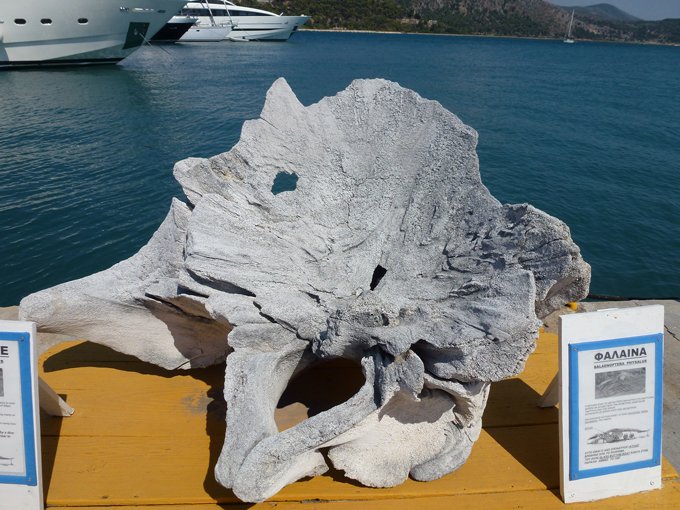 ---