36:59.68N 28:12.44E Cleopatra's Beach, Castle Isla nd.

Ariel of Hamble
Jim and Valerie SHURVELL
Wed 28 May 2014 17:05
Friday, 23th  May, 2014.
After breakfast Jim released the shore lines and we were off to find Cleopatra's Beach on Castle Island just 7.8 miles away.  There are ruins dating from early Carian to the last Byzantine occupation all over the island and it attracts lots of visitors.  You have to use some of your imagination on how it was in Cleopatra's day as olive groves have grown all over the island and the theatre has been invaded with them.
The beach on the west of the island is known as Cleopatra's as she is believed to have taken up residence on the island and to have had sand shipped from North Africa to create the beach for her lover Anthony to sunbathe on.  The sand has been tested and it is indeed typical of African sand and not from any region in Turkey.  No one is allowed on the beach as it has been roped off and a guardian works on the island each day supervising the visitors.  People try and swim to the beach but cannot step on it which is not much fun.  Naughty people started taking small samples away with them!
 On Snake island we spotted a defensive wall in ruins.
Tomb Island is the smallest and was named Tomb as an ancient coffin was found buried on it.
We had a wonderful swim in the turquoise water of 28.7 degrees.  On the high mountains across the bay the clouds were building and we could hear thunder so we decided to leave while the sun was still out and we could remember a lovely island in the sun.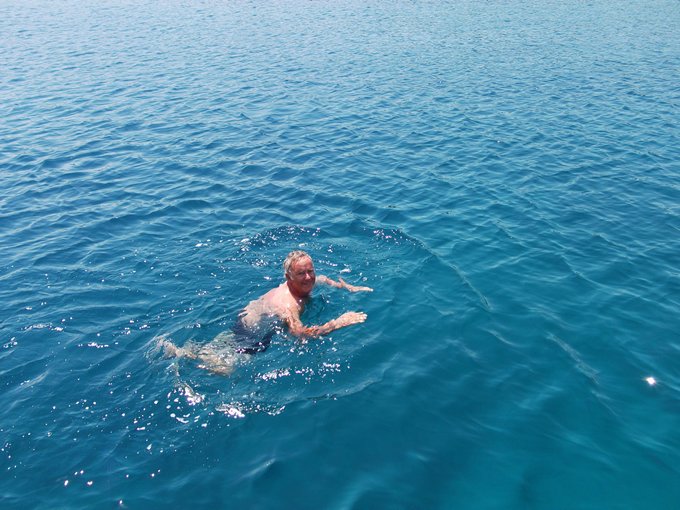 ---