36:32.545N 06:16.989W CADIZ

Ariel of Hamble
Jim and Valerie SHURVELL
Thu 13 Aug 2009 12:47
36:32.545N    06:16.989W   CADIZ
8th August, 2009.
We left Faro harbour/Lagoon and sailed the 77 miles to Cadiz intending on spending the night at Rota but as we approached Rota harbour at about 10pm it was dark and a large dredger had just started work just in the entrance and we were forced after circling several times to turn away. Jim reprogrammed the Raymarine chartplotter and as late as it was we crossed the bay over to Cadiz town.  We entered Puerto America marina at about 1am and then had to go through the now familiar booking in procedure of passports for everyone, ships papers, insurance etc.
We were lucky with the weather on the sail over from Faro to Cadiz with a good steady breeze until it just started to get dark after the sun went down and the wind died with it.
Sunday was spent ashore walking around and exploring the old city of Cadiz.  The city is reckoned to be the oldest in Europe dating 3,000 years.  A very hot day with the temperature over 40 degrees C at times.
On the beach it was a Spanish family day with large family groups all sheltering under sun umbrellas some large family groups and friends all playing bingo.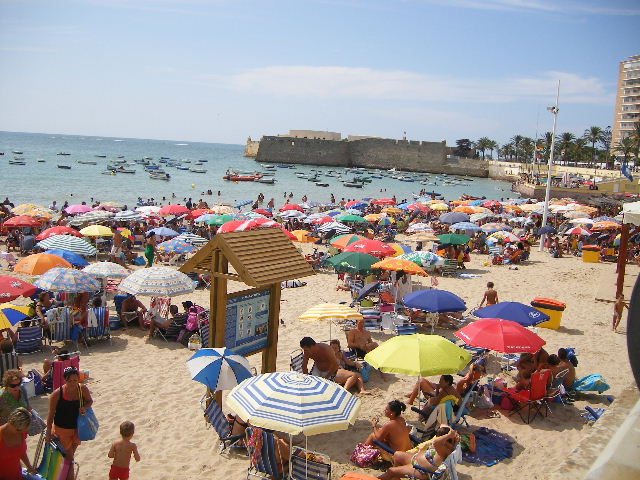 ---