43:16.38N 06:34.90E Port Grimaud

Ariel of Hamble
Jim and Valerie SHURVELL
Sat 26 Jun 2010 08:07
43:16.38N   06:34.90E   Port Grimaud
Friday 11th June, 2010.
The wind dropped and we moved into Port Grimaud marina.  It is like a mini Venice.  The village is built around a series of canals and basins so that with an apartment or house you can have your boat moored at the end of your garden.  Arched bridges cross the canals and most of the area is inaccessible to cars, giving the village a wonderful tranquillity.  The houses and apartments are all different in sharp and colour.  There are many restaurants, shops, ice-cream shops, bars and souvenir shops.  We were berthed on the wall outside the International Yacht Club.  Our neighbours were very grand and Ariel looked very small against them.
We came in for water, washing, stores and a chance to look around St. Tropez again. 
We used the bikes to go to the nearest supermarket off the complex as their prices were double.  Quite a few English boats were around us as they keep their boats there all year round as it is very close to the airport.
Once we had done all our chores we headed back into town.  We have both fallen in love with St. Tropez.  It is not a large town but it has something for everyone.  We passed the street painters, the huge boats which were all arriving and the paid help were helping their employers to their cars, houses etc. with all the shopping bags from famous shops. The restaurants have beautiful tablecloths, flowers and just something a little extra.  We managed another ice-cream, the best we had had this year.
Many of the harbour houses look old but most are reconstructions as the Germans blew up the harbour and waterfront before surrendering.  We walked up the narrow and peaceful streets up to the Citadel at the top of town, the view is wonderful. You can see all around the bay and over to Ste-Maxime where Roger Moore lives.  The hills are very green and the whole area has not been over built on. The beautiful mountains are in the background.  The houses on the foreshore can only be seen from the water as when you go past the front gates they are high with high walls and mostly the houses are hidden from view by trees and bushes.  But from Ariel you have the most wonderful view of the front of these wonderful houses.  A few million would not buy these houses!!
Many artists like Paul Signac, Matisse, Bonnard, Marquet and Dunoyer de Segonzac spent a lot time in St. Tropez.  St. Tropez is somewhere to revisit one day.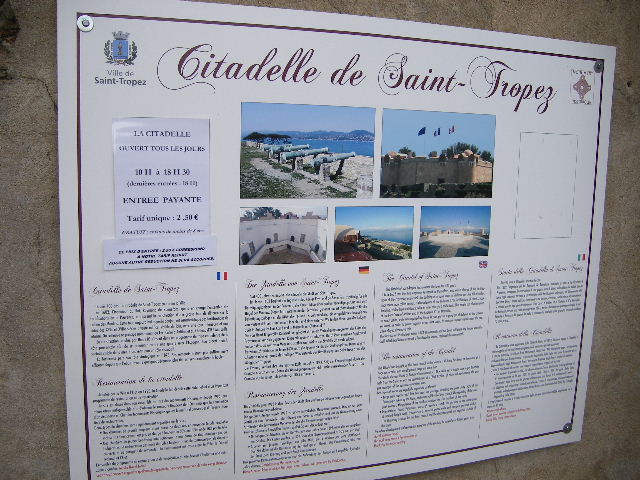 ---