37:40.04N 24:19.56E Kea Island

Ariel of Hamble
Jim and Valerie SHURVELL
Tue 4 Jun 2019 07:31
Monday 3rd June, 2019.

After a sad farewell to Brian and Mari on Sunday evening over a drink we were set to leave Poros and make for Kea. After taking up the anchor we had to take a quick detour and have a look at the Maltese Vulcan in the bay. A very expensive sailing ship.
After a few photographs we were on our way with the sails up and heading out of the Poros channel and making good time for Kea.  The wind got a little confused at one stage but once the change of wind direction had happened we were making 8.7 knots and the entrance to Kea soon appeared. We covered 47.5 miles in 8 ½ hours.  The white horses were charging into the entrance and after looking at the port quay and beach area we decided the best possible option was to anchor in the far end of the bay.  The wind blow hard but we soon had the anchor down and we were settled for the night.  We cooked chicken risotto and once the sun went down the wind started to subside and it all became very calm.  The night was very quiet.
Tuesday 4th June, 2019.
We took the dinghy to the quay and walked into the port before taking a taxi up to the chora.  It was very high and thank goodness we hadn't decided to walk as once we left the taxi we climbed up to near the top for the view and had coffee. A fascinating town with so many steps and homes in all states.  Some have been beautifully modernised but others have been left in ruins.  I was shocked to have a donkey ridden by a man suddenly come up behind me as I went through one of the little walk ways.  Afterwards I tried to take his photo but he was very upset with me and I got shouted at.  The donkey was obviously use to having this old chap riding him but his condition was not good.
Luckily another taxi took us down to the port so we could do some shopping before we walked back to Ariel. The road was much too dangerous for walking with lots of bends. Suddenly the wind started to increase as we walked back so we knew we needed to move her to the quay if possible.  I got quite wet in the dinghy as Jim rowed us back to the anchorage as the waves were quite high.  Luckily we got a spot on the quay where we spent a very enjoyable afternoon before having dinner across the road at the restaurant.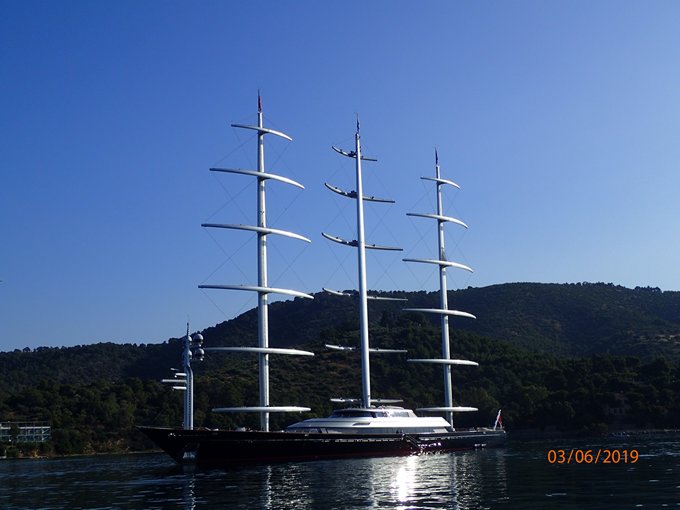 ---