Symi town and the area around the harbour

Ariel of Hamble
Jim and Valerie SHURVELL
Mon 30 Sep 2013 18:44
Sunday 30th September, 2013.

We took the bus from Gialos to the top of the mountain at Chorio so we could climb up to the windmills and to the Pontikokastro.  There are ruins of twenty windmills and the Pontikokastro is an ancient tomb monument believed to have been erected by the Spartans in 412 BC.  One of the windmills has been restored and has a marvellous view over the harbour and one very dilapidated one which had a tree growing inside is for sale but the others are now just left and weathered.  The climb up to the Pontikokastro was up an unmade track which we climbed like mountain goats but the view was fabulous.  We could see down into the harbour, across to the Turkish mainland and around the headland to Pedi Beach one of many which are popular by holiday makers and local people. The small lily was growing hidden in the rocks.
We walked down through Chorio down millions of steps to the waterfront.  Several of the houses were bombed in the war and have not been repaired which is a shame as they were houses with lots of character.  The 19th century church of Agios Georgios which overlooks the harbour has an unusual pebble mosaic of fierce mermaids who in Greek folk story telling are responsible for storms that sink ships.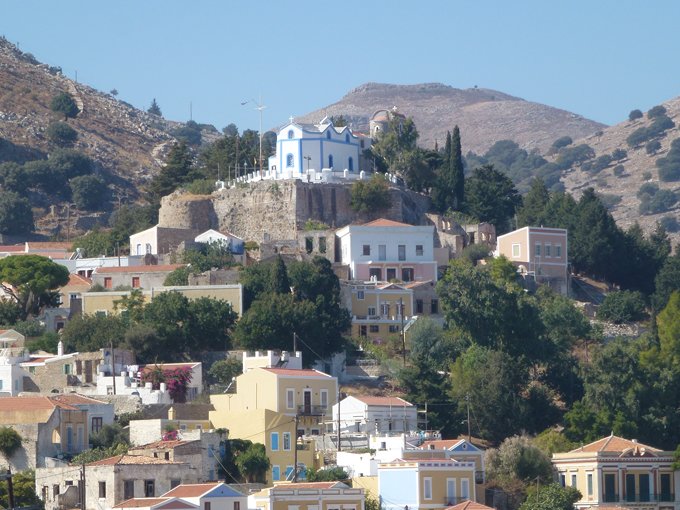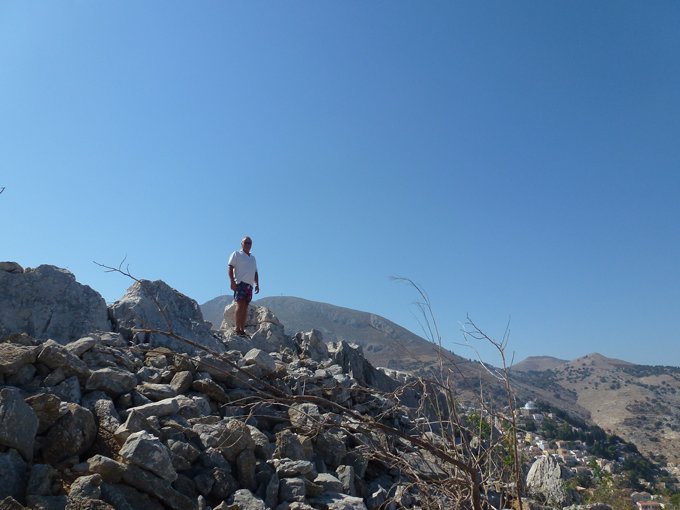 ---