40:55.25N 12:57.65E Ponza, Southern Italy

Ariel of Hamble
Jim and Valerie SHURVELL
Sun 5 Jun 2011 11:41
3rd June, 2011.
After a day of rest, washing and restocking the fridge we left with a little sadness the island of Sardinia at 10.10 a.m. after refuelling with diesel and water for our trip over to the island of Ponza south of Rome and 60 miles approximately from Naples.  We have enjoyed all of our stay in Sardinia and I am sure we will be back one day as it has such a wonderful climate, beautiful scenery, beaches and generally a wonderful place to spend a holiday.
We managed to sail 22 miles and then the wind really died on us and for the next 144.3 miles we were motoring with the sails up, down, one or two out and anything Jim could do to make them work for us but the only wind was on the nose and completely useless to us.  A family of dolphins came to see us about 15 miles from Olbia and we did see one on its own before dark and one again the next morning but no sign of any turtles.  It was dark by 9.30 p.m. with a wonderful night sky of hundreds of stars and planets.  It was light by 4.50 a.m.  Although we both napped on the way it was a long night! We only saw 2 cargo ships, 2 ferries and 3 yachts in the whole 166 miles until we arrived here where all the Italian population are moored in the little bays around the island and its sister island Palmarola. We have pulled into Cala Feola which is a beautiful little bay with houses all around the cliffs and the little day boats bobbing on their moorings.  When we pulled in the whole of the little day boat fleet were out but today it has rained, it is dull and the sun worshippers who came to the rocks to sun bathe have gone back up the steep steps.   
We were going to take the bus to Ponza town but the wind has picked up a little and is blowing into the bay from the east so we are waiting to see what develops when the usual afternoon breeze comes up. Neither of us is happy to leave Ariel unattended with the just in case factor at the back of your mind.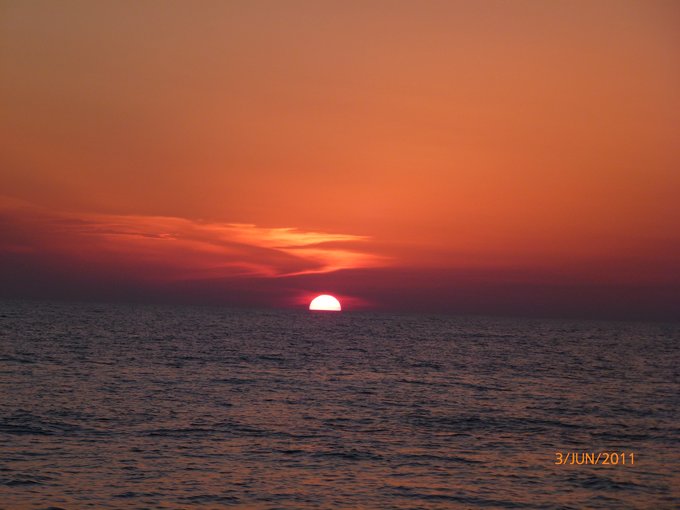 ---