39:08.79N 23:24.07E Koukounaries, Skiathos.

Ariel of Hamble
Jim and Valerie SHURVELL
Thu 1 Aug 2013 08:57
Tuesday 30th July, 2013.

After a great evening entertaining Chris, Kathrym and their friends Colin and Julie to drinks on Ariel we all went to the very small taverna on the quay of Platania for a super meal before we said our goodbyes.
We were anchored in the bay due to the sardine boats being there before us.  We had tucked ourselves in as best as we could but it was a slightly rolly night and with the sardine boats reappearing at about 4 a.m. it was also noisy.  Therefore we were up slightly a little earlier than normal and had breakfast before we waved goodbye and motored out of the small harbour heading for Skiathos.
We managed to see one lonely big make dolphin swim under Ariel and off again.  We picked up some breeze and were able to sail to this gorgeous bay on Skiathos.  According to all the books it is the place to be seen in Skiathos as there are several beaches of soft sand in this big bay.  Behind the beach area is a wood of pine trees. The umbrellas are up and the sun beds neatly lined up and I am pleased to report there does seem to be a good number of people in this resort.  We have noticed everywhere we have gone that there definitely less people holidaying in Greece this year as lots of restaurants are empty or only have a few people sitting at their tables in the evenings.
Three day trip boats are anchored here after depositing their clients near the beach for a swim.  Most have come from the mainland like Platania which today we covered 6.6 miles.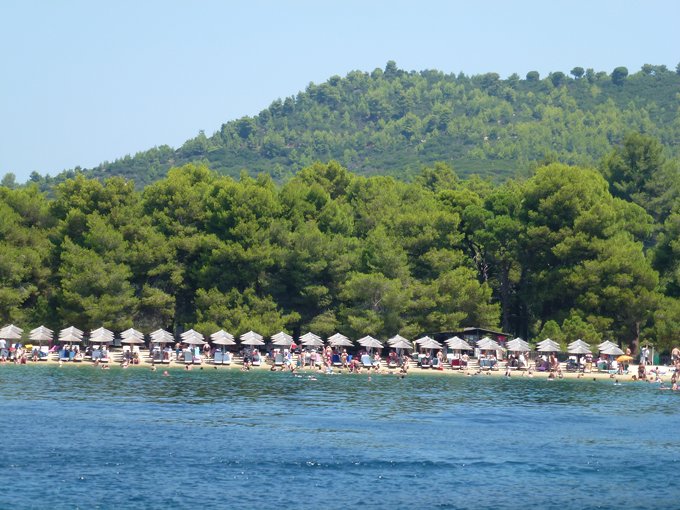 ---