Tempio Pausania

Ariel of Hamble
Jim and Valerie SHURVELL
Mon 13 Sep 2010 16:01
Tempio Pausania
New crew in the form of Julie and Richard have arrived but unfortunately they have bought the wind and a thunderstorm which fortunately only last a short time.  On Friday we motored sailed out of Olbia harbour into the bay but the wind increased and we turned back as it was not necessary to worry our friends. We found a place on the harbour wall and secured Ariel into a new position.  Later we introduced Julie and Richard to the ice-cream parlour which they enjoyed.
The following day the wind was still strong so we went for a one and half hour bus journey to Tempio Pausania in the mountains.  Tempio Pausania is the capital of the Gallura area for which the wine is famous.  The bus took us along the S127 road to Telti, Calangianus, Luras and into the town of Tempio Pausania.  The train looked a little old for our use.
We walked around Tempo Pausania in the afternoon sunshine and wandered into the old town area and found the cathedral.  It was founded in the 15th century and rebuilt in the 1800's.  Inside was a beautiful wooden carving of Christ.  Below was an open coffin standing on wooden handles which the pall bearers would use to carry it.  This was a first for me.
On the walls above the front doors outside most houses in this area were dressed metal cockerels with a hanging basket below.  This was a charming old town which we all enjoyed walking around.
Just a short distance from Tempio Pausania is the mountain Monte Limbar which at the summit is 4459 feet.  The countryside was beautiful with huge mountains around us and long sweeping views across the valleys.
When we past through Calangianus we noticed large stocks of cork left to dry.  Cork harvesting takes place all over the area.  The Quercus suber trees (cork) are above 25 years old before the first stripping of the bark takes place.   The first layer is very porous so it is not normally used.  The tree is then left in Sardinia for another twelve years before it is stripped again and the cork is good enough to be used.  It takes another twelve years for a new layer of bark of cork to grow and be stripped for profit. The tree must be 40 years old before it can be used for wine corks.
Harvesting does not kill the tree and if harvested correctly each tree can live to an age of 200 years.  Cork is harvested in spring and summer as the tree is in its growth cycle and re-growth is quickest at this time and safer for the tree.
The newly harvested cork is cut into thick short sheets.  It is washed and graded and the round stoppers are punched out.  They are graded, sterilised and their moisture content checked.  Finally they are hygienically sealed into polythene bags and shipped.  Seventeen million are punched every year.  Any residue from this process is ground up and compacted to produce cork tiles or thin cork sheets. Cork is also used in cooking utilises and for roasting meat on. Cork is one of nature's gifts to us as it lightweight, flexible and impermeable to liquids and gases.  It is fire and rot resistant, soft and buoyant.
Today the region produces 90% of all bottle stoppers used in Italy.  It has been one of the chief export products from Sardinia for hundreds of years.
We all enjoyed the coach journey to and from Tempio Pausania. When we arrived back at the harbour area we found approximately fifty Fiat 500's on display including a Fiat 500 estate and a Abarth racing Fiat.  Before we could examine them closer they were revving up and leaving the parking area much to our dismay.
The evening provided a motor racing show on the quay behind curtains which we heard from Ariel but could not see.  Olbia is indeed a busy town and we are all enjoying the atmosphere.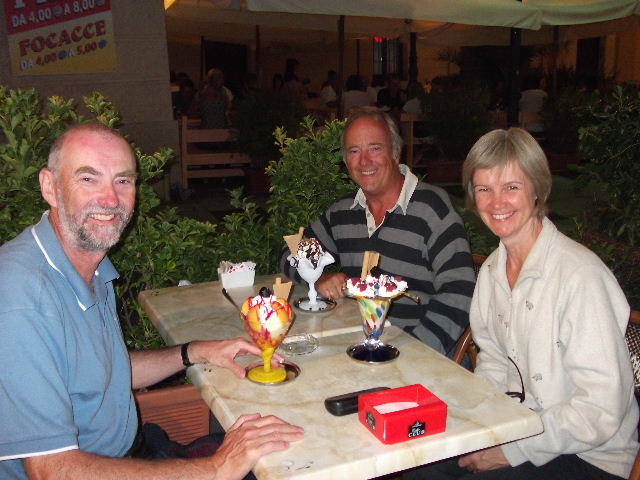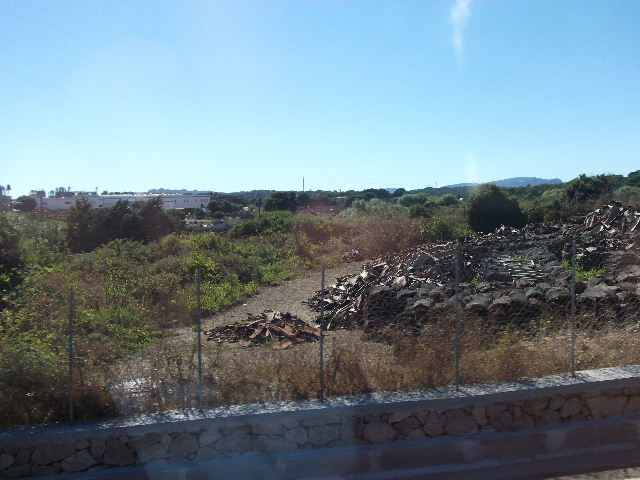 ---