44:24.60N 08:55.41E Genoa

Ariel of Hamble
Jim and Valerie SHURVELL
Thu 22 Jul 2010 20:17
44:24.60N    08:55.41E     Genoa
We were up early as Ariel was jumping up and down in the waves so we had breakfast and set off for Genoa.  The wind increased and we were reefing down as we came out past the headland.  The wind was with us for quite a few miles but then gradually died and we were motoring again.
We arrived in Genoa around mid afternoon and after tidying the boat we set off to look around the town.  We were not disappointed and we were amazed at all the little shops, alleyways and numerous churches. The warehouses around Marina Mole Vecchio where we are moored have been revamped by the architect Renzo Piano into commercial offices with shops, restaurants and cafes at ground level.
The city has ancient associations and was founded by the Etruscans in the 8th century BC.  Greeks settled here in 6th century and it prospered until the Carthaginian War, when it was invaded in 209BC. The Romans rebuilt it and trading took place from Genoa.  Many of the crusaders left from Genoa. Richard Coeur de Lion left from here on his way to the crusades.  It is interesting to speculate that the patron saint of England, St. George, may well have been introduced by King Richard I.  On a voyage down the coast a storm hit his ship and he implored the captain to pray to his saint for safety.  As the storm increased he pledged to adopt the saint as his own.  On our way we have seen the St. George flag flown everywhere.  In Spain on St. George's Day the men give a lady a red rose and the lady gives the man a book.
Christopher Columbus was born in Genoa in October 1451 to a family of weavers.  As a boy he worked on the loom and later went to sea. In 1476 he went to Lisbon and joined his younger brother Bartholomew in chart making before making several voyages to Iceland, Madeira and Africa.
The port area was redeveloped in 1992 for the Expo exhibition. 
Genoa has everything, shops, restaurants, city wall, arts and many places of interest.  Well worth a visit and thank you to Belinda for encouraging us to visit the city.
Frank wished to have a pizza on his last night in Italy.  We found a lovely little restaurant across the road from where a choir and orchestral were playing. Sadly the next day Frank and Sue were up early and off to the airport.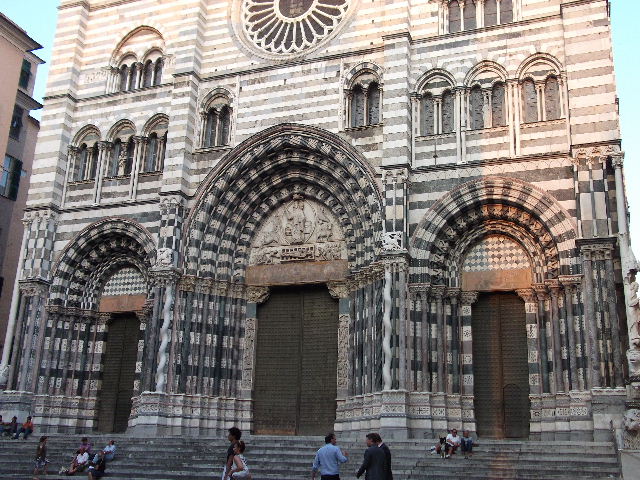 ---