37:06.425N 08:40.441W LAGOS Part 2

Ariel of Hamble
Jim and Valerie SHURVELL
Thu 13 Aug 2009 12:39
37:06.425N     08:40.441W             LAGOS   Part 2
27th July, 2009 until 6th August, 2009.
Melissa, Lizzie, Poppy and George arrived safely after an hour and twenty minute delay at Luton airport.  Jim and I had taken the 6.55 a.m. train from the marina into Faro and caught the bus out to the airport. After several tense minutes while every passenger seem to appear from the Monarch flight they calmly came through the doors. After lots of kisses and cuddles we took the taxi into Faro and caught the one o'clock train to Lagos.  The children enjoyed the train journey looking out of the window and having a little picnic.  Poppy saw for the first time oranges growing on the trees along the railway track.  She got very excited as the train came along the bay into Lagos and she could see her holiday destination.
We had a lovely ten days with a daily visit to the beach.  As the tide went out Poppy was able to run back and forth with her "Hello Kitty" bucket and watering can collecting water for George's paddling pool which someone would make him each day.  Poppy had a great time knocking down the castles Lizzie made her.  Melissa and Lizzie both took it in turns in the water to hold Poppy and let her kick her legs encouraging her to swim.  The water was cold at first as we were so hot but once acclimatised it was very enjoyable.
George who arrived with jelly legs and not really any liking for the sea soon found he did like the sand and little ripples of water.  With lots of suntan lotion, hat, t-shirt and swim nappy once he had enough sitting under the umbrella with the bucket and spade he was crawling off to explore the sea shore.  He laughed and giggled and decided with help he would walk along in the water.  He was not interested in eating the sand which was a relief! On Arial he enjoyed pulling himself up on the door in the companion way and looking into the saloon and with the gate to the bathing platform he was able to see everything he wanted to safely.  We could see such a difference in him in ten days as on the morning he was leaving he was crawling along, straightening one leg and holding on to the steps and standing straight up.
We did lots of tourist things like taking the little train out to the lighthouse and climbing down the steps to the blue grotto which Poppy thought was great as she could see all the holes in the rocks and the water was so blue.  The promenade is wide and you can easily walk with the pushchair to the fort which dates back to the 16th century.  There are several very sandy beaches around the coves and you can see why it attracts holidaymakers all the year round.  During the evenings there are hundreds of little side streets to explore with shops and restaurants open until the early morning.  Street entertainers are everywhere from instrument playing to mime artists.  One evening we were treated to national dance by a group of local people ranging from 70 years of age to 16. It was fast dancing and changing of partners constantly almost like our country dancing.
We were lucky enough to have several stork nests on towers which we could see from Ariel in the marina.   Poppy looked everyday to check to see if the stork was at home or not.  In Portugal if a stork builds a nest on a chimney that chimney can not be removed and therefore you have several areas cleared for building with a single chimney left with a stork's nest on top.
The marina is packed with restaurants, bars and very nice facilities.  As Poppy was a very good girl one day Nanny and Poppy went to Pizza Hut for a treat as she was promised.  She was an angel, we ordered and we sat and waited for her tea to arrive. She watched everyone around her and when her meal came she ate it up very nicely. Very grown up!!!
Jim and Jackie both celebrated their birthday on the 5th August and we all went out for lunch at the beach restaurant as we decided this would be best for the kids.  We had a lovely lunch overlooking the sea and beach with the beautiful sunshine all around us.  Poppy was very excited that Melissa had bought magic candles for the birthday cake and Granddad and Auntie Jackie had to keep blowing them out.
Jim, Mark, Jackie and I were all very sad to see them go home as we had all played with the children over the last ten days and talked to Melissa and Lizzie about everything we had missed in the last few weeks.
A special big thank you to David for letting his family leave him on his birthday.  A huge thank you to Melissa for bringing the children to see us when we all know it is very difficult travelling with two children especially to a warmer climate.  To Lizzie who helped to look after Poppy and George and was a very busy Auntie, thank you Darling for your marvellous job.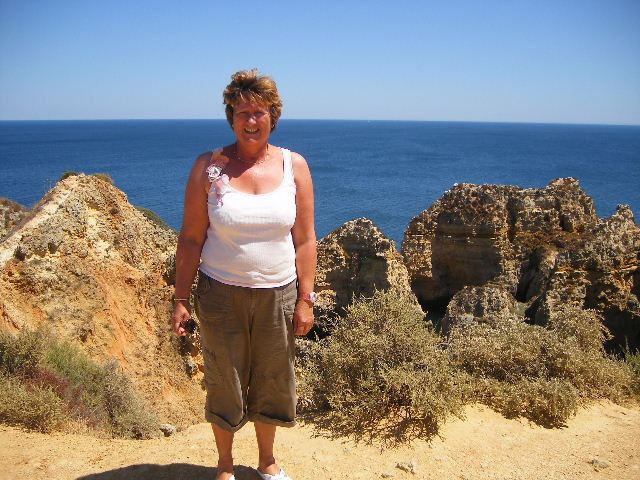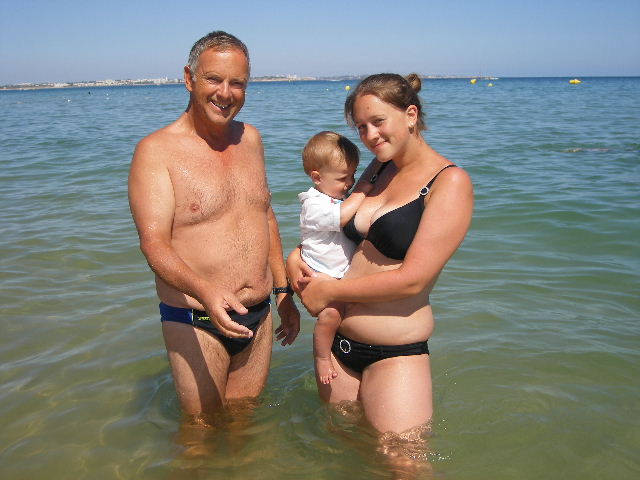 ---