Tour of Nisiros Island

Ariel of Hamble
Jim and Valerie SHURVELL
Wed 25 Sep 2013 05:18
Sunday 22nd September, 2013.

We hired a car for a visit to the newest active volcano of the Aegean Sea.   It appeared 160,000 years ago following a huge eruption in the area between Western Kos and the Yali Island. The island today was finally formed 20,000 years ago after the last volcanic eruptions.  The volcano is named Stefanos in the centre of the island which is visited daily by tourists who arrive on the trip boats every day. The entire island is a huge volcanic edifice.  Every stone on the island was created as a result of volcanic activity and there are hundreds of layers of rocks which were laid during one of the numerous volcanic eruptions.  The colour of the lava varies and we saw black, red, sand and beige.
We found it very exciting to be able to climb down to the crater and walk around it and look at the holes and watch the water boiling and the steam float up. The smell of sulphur was very strong and the heat under your feet could be felt through our shoes.  We found it amazing we were able to just wander around without any health and safety warnings or fences to stop anyone.  We visited the museum at Nikia and the display was wonderful explaining everything we wanted to know. The small square in Nikia has a beautiful mosaic in the round square overlooked by the church.  The views were great looking out to Tilos and Turkey.
We drove to Mandraki the capital for lunch before walking through the town and looking up to the monastery on the cliff face.  There are lots of narrow streets and some balconies nearly touch they are so narrow with squares away from the sea front.  During the day the shops were shut but when we returned in the evening to attend a wedding reception of a couple on a boat all the shops were open.
We drove up above Mandraki to the Palaiokastro dating back 2,600 years where the walls are made of massive blocks carved from the volcanic rock with Doric columns. The views were fabulous and any ship would have been spotted from the high point of the castle.  We did drive up to the monastery but just as we got there three hunters with their dogs in cages had got there first and we didn't fancy getting out with the dogs around so we drove back down to Paloi where Ariel was waiting.
The Italian bridegroom and his French bride who both work in Switzerland and keep their boat in Kos marina asked us for wedding drinks in Mandraki which with another lady we attended as we asked for an extension on the car return time.  Very pretty wedding dress, great local music and a wonderful wedding cake so we all had a great time for an hour or so which was the end of our tour of the island.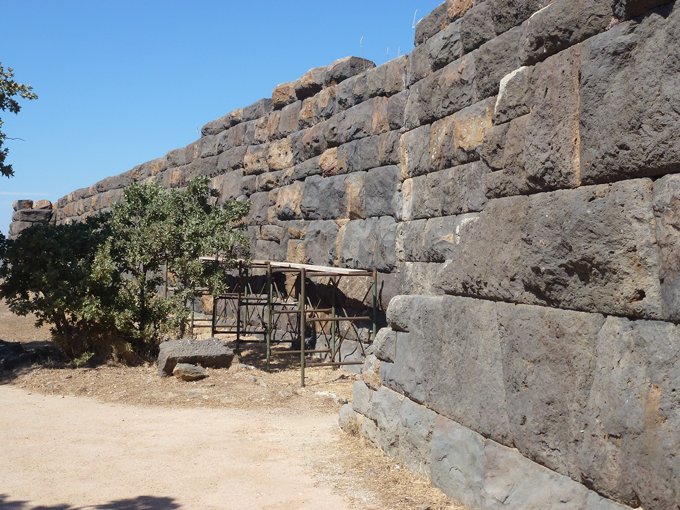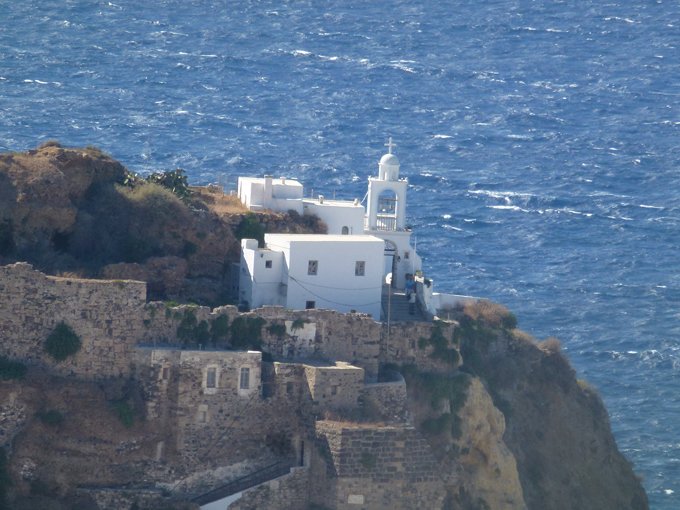 ---