43:07.08N 05:55.85E Toulon

Ariel of Hamble
Jim and Valerie SHURVELL
Sat 19 Jun 2010 08:10
43:07.08N    05:55.85E   Toulon
Thursday 3.6.2010.
The wind at long last has dropped and we are feel to leave La Ciotat now. The harbour was beginning to empty fast now.  I paid the bill in full and off we set to Sanary to pick up John and Diedy for the boat trip to Toulon.
They were waiting for us on the harbour wall.  As we knew that Toulon being a naval area had requested no shipping in their area before 2 p.m. we had lunch at anchor in Sanary. The resort has pink and white houses and palm trees around the harbour and looks very pretty from the water.
Our journey took us out via the Ile des Embriez, a low lying island on the W side of Cap Sicie.  It is surrounded by islets, rocks, reefs and shoal water.  The lighthouse is on Ile du Grand Rouveau, the tower on Ile des Embiez and the N cardinal beacon is on La Casserlane. It is known as being a dangerous area when a mistral is blowing.  Our journey was peaceful and Cap Sicie looked beautiful. This high cape drops down to the sea from 1180 feet and there are good depths of water right up to the bottom of the cliffs. On the summit of the cape is the chapel of Notre Dame du Mai and an old signal station. The chapel is used as a place of pilgrimage.  It is also known as our Lady of the May Tree and Our Lady of the Good Protection.  The chapel must have a wonderful view of the whole bay and look out to the Iles d'Hyeres.
Around 3.30 p.m. just after we rounded the cape we were instructed by a control boat to head north into the bay for 30 minutues before rounding St. Mandrier to enter the Toulon grande rade.  We expected a gun to fire or a large explosion but all that happened was a helicopter flew over and we were radioed to thank us and we were free to return to our previous course.  The control boat had raced after at least 20 boats sending some out to sea, turning others back from where they were coming and generally working very hard.  What war games they were playing we do not know but it allowed for a quiet cup of tea while we sailed around the very beautiful bay.
The accrueil pontoon for visitors in Toulon is no different from other French marina's full of little boats and no room for visitors.  We motored around and found a berth for Ariel in the residents side.  We walked with John and Diedy over to the harbour café area and found them a bus to the train station and off they went to catch the train to Sanary.
Jim and I looked around the area and found the naval museum.  Jim got propositioned up a side street and I was given orders not to leave his side.  She was a dragon!
Back on Ariel there was a lot of shouting and a few minutes later the police turned up to take 3 boys away who were on one of the boats.  The Policeman Jim spoke to had a very good command of English and he said they have a lot of trouble with youths boarding boats as the visitors pontoon was left for people to come and go and no security what's so ever from 6 p.m. to 9 a.m.  Still cost 50 euros for tying up which is not good value.
We covered a distance of 26 miles today mostly sailing in beautiful sunshine.
Ps  I should have told you all that we saw one lone tuna on the trip from Cassis to La Ciotat but Jim was not quick enough with the rod!!!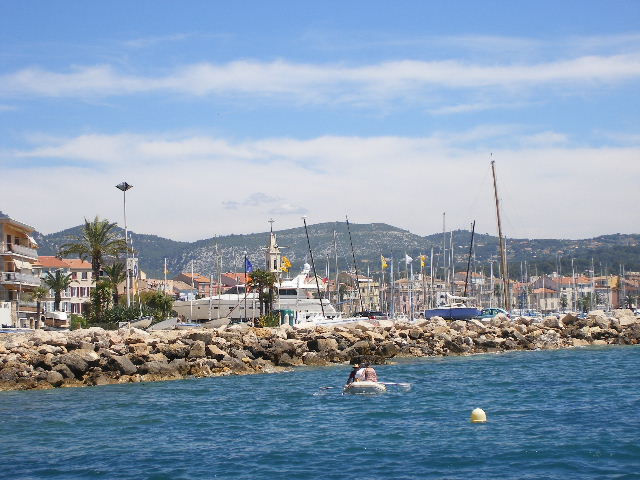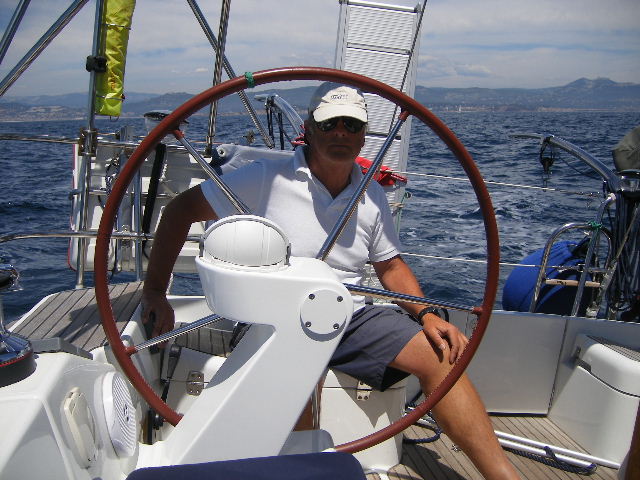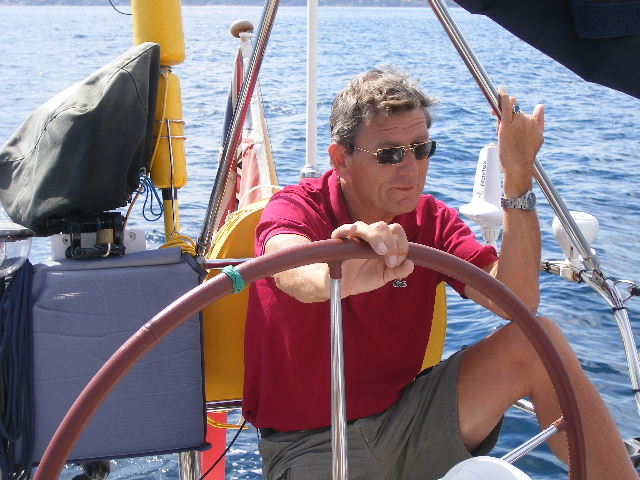 ---