Poros – Neorion Bay (Love Bay)

Ariel of Hamble
Jim and Valerie SHURVELL
Mon 27 May 2019 21:52
Friday 24th May, 2019.
We were ready as soon as breakfast was washed up and up came the anchor and off we went.  The genoa was launched in the harbour and we were ready for the wind to blow us towards Poros.
It certainly gave us a nice sail as we passed Kira island a sea-gull island and then on to Angistri and the small island of Dhorousa.  As we started to head towards the coast of Methana to round the headland to the east coast the wind started to blow hard and very soon it was 24 knots and we were enjoying ourselves.  You didn't want to be going towards Athens as it was on the nose all the way. We managed to keep the genoa going all the way to Neorion Bay where we quickly put it away and got ready for anchoring.
After lunch which we had to eat inside which is something we rarely do the wind started to subside and gradually all the clouds which had formed disappeared over the mountains and the sun came out again.
Neorion (Love Bay by the locals) is a lovely little bay with hotels on the front and a thin beach all around it. The only little annoyance is the water skiing school but as the season is not in full swing yet not a problem.  For the first time we have the Star Flyer clipper anchored in the bay opposite us.  It looks wonderful.  The dinghies are out and the passengers have been ferried by little boats to Poros town or Epidhavros old city.  We were in for a treat when it left all the sails went up and we were treated to this beautiful display of a lovely ship in full sail.
The next day another super yacht probably 70 metres anchored and up went the main gradually as the batons went in the bags.  A truly very expensive carbon sail.  Approximately about 12 guests on board who were all in their early 20's.  Where did we go wrong? Not a clue who they were.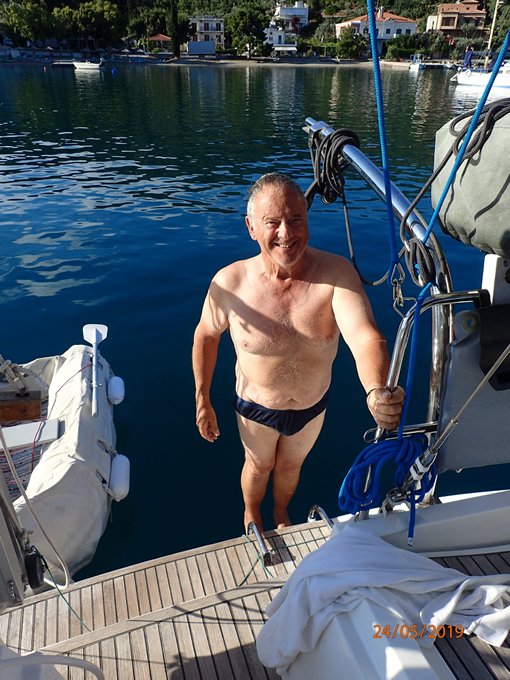 ---