37:45.32N 23:07.32E Korfos

Ariel of Hamble
Jim and Valerie SHURVELL
Mon 27 May 2019 21:38
Thursday 23rd May, 2019.

We had a very quiet night on the anchor at Epidharvr
and woke to another lovely bright sunny morning. Af
breakfast and some shopping ashore we left
Epidharvros for the bay of Moni off of Aeigina and n
far from the bay of Perdika.
We motored passed Angistri and saw the little
anchorage near Limanaria but we were intent on
visiting the lovely bay of Moni. 
As time went on the afternoon breeze started to set in
early and before long it was romping down the side o
Aegina and pushing waves into Moni.  We tried to en
the bay but it was going to be so uncomfortable once
anchored so I had to make do with photographs.
We had to motor into the wind and just before Aegina
harbour wall Jim managed to find the only rock in th
water and the keel slowly jumped over it.  The captai
wasn't too pleased but no damage other than another
little job to do in the boat yard!!!!
We anchored and had lunch but it was uncomfortabl
Gradually the wind subsided and we wondered if it w
possible for the night as looking into the harbour ther
wasn't any spaces. Jim looked at the weather sites an
was showing a very green area of wind over the who
area.  Therefore we decided to be on the safe side we
would sail across to Korfos for the night as we had
wind for the genoa and main.  It wasn't long before w
took the main down as the further we got away from
Aegina the lighter the wind got. Having covered 18
miles from Epidhavros to Aegina and then another 1
miles to Korfos we had had quite a little trip not goin
far.
We anchored in our favourite spot in the north corner
the harbour and had dinner.  Since we have been here
last time several new houses seem to have appeared.
We counted 8 camper vans along the sea shore that
were still there the next morning.  We noticed at
Epidhavros camper vans would come and find the
beach area and a police car would appear several
minutes after they stopped and very quickly they wer
on their way.  This we could not understand as visitors
bring money and spend in the supermarket, ice-cream
shops, buy gas and use the restaurants so why be so
difficult to visitors who are probably in a van which
costs quite a few years salary to buy. Most camper va
holiday makers are like us away to see as much of
Greece and the surrounding countryside as possible.
We went to bed around 10 o'clock and all was calm
it didn't last.  The mosquito net Jim's side started to
rattle and woke him up.  The wind had got up and wa
rushing down the mountain and the fetch across the
water was blowing 30 knots.  Now was time for the
captain to decide what he was going to do.  Down we
more chain and he saved the Lucy light which was
blowing around on the string quite happily but may
have decided to jump ship with much more wind. 
Several people were up with the deck lights on or usi
torches checking their boats. Jim didn't sleep to well
after that and was up again at 7 wanting breakfast to
on our way.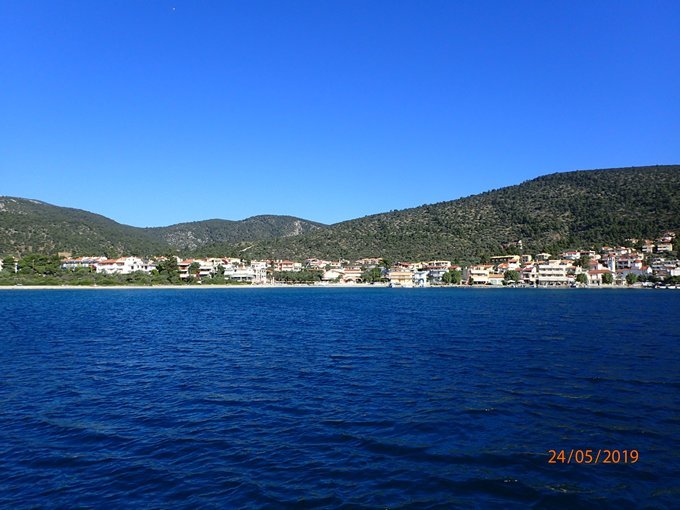 ---