37:06.27N 25:22.48E Naxos

Ariel of Hamble
Jim and Valerie SHURVELL
Sat 21 Jun 2014 16:12
Monday 16th June, 2014.
We motor sailed the 26.09 miles from Ios to Naxos.  We found the island delightful with a small beach to swim and lots of restaurants and bars to choose from on the waterfront.  Once we had established ourselves we found the hidden lanes up from the waterfront with small shops and beautiful restaurants where we ate in the evening.  The lanes were all part of the castle in the past. Lots of homes tucked away in this area.
Naxos is the largest of the Cyclades and was first to have settlers in 3000 BC.  Naxos fell to the Venetians in 1207 and numerous fortified towers were built across the island as look outs. The north gate of the fortified castle still exists and two of the seven towers but little is left of the outside wall but the inner wall still exists protecting 19 houses.  Most of them bear the coats of arms of Venetian merchants who lived there and many of the present day residents are descendants from these original families.  Frank and I visited one these houses which for the last twelve years been turned into a museum. The house has been in the family for four generations and is exactly as it was 100 years ago. Beautiful views from all the windows over the harbour with a lovely cool breeze.  The 13th century Catholic Church still stands in the castle grounds.
Just a short walk from the harbour is a causeway on which stands a huge marble Portata gateway on the islet of Palatia which dominates the harbour of Naxos.  Built in 522 BC it was to be the entrance to the unfinished Temple of Apollo.
In the harbour is an island with only a church on it.  There are lots of rings around the island to be able to tie your dinghy up to for a visit.
The ferry boats bring lots of back packers to the island and it is a great place to spent time. We were treated to children dancing in national costumes in the main square as we went for dinner. July and August is apparently always very busy and there is street entertaining every day.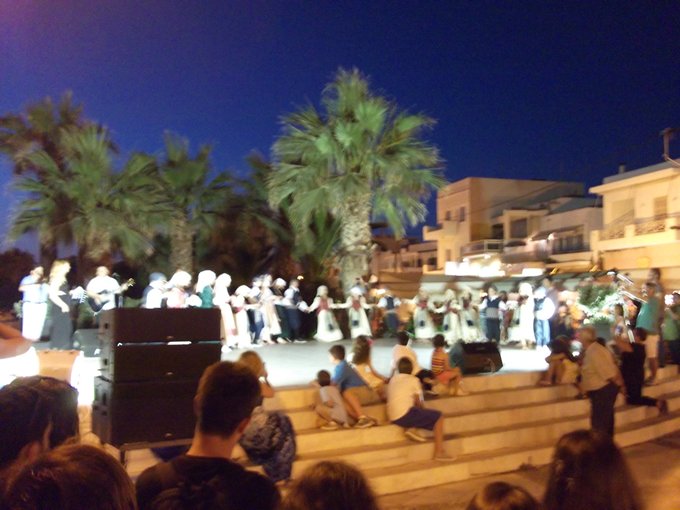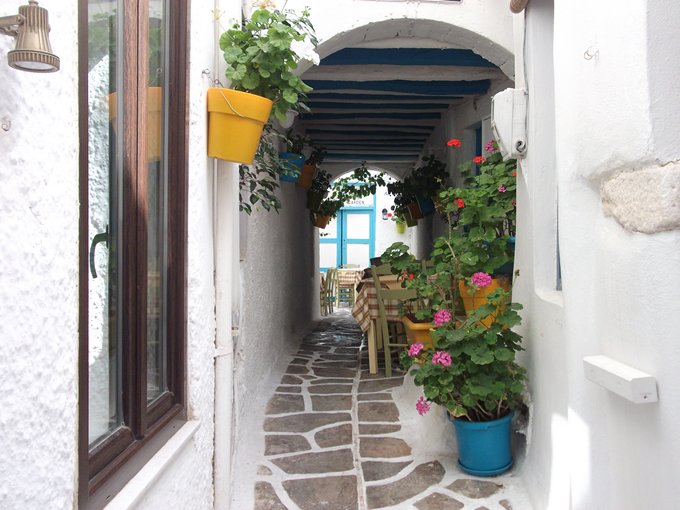 ---