Taormina

Ariel of Hamble
Jim and Valerie SHURVELL
Sat 25 Jun 2011 13:28
21st June, 2011.
Taormina was one of the stops on the grand tour of the 19th century when people used to travel around the Mediterranean aboard ship stopping to take in the sights.  Therefore, Ariel needed to come here.  It was also somewhere my Dad came during World War II.  We anchored in one of Taormina's famous bays just across from the famous train station which we were to discover on our day's visit to the town.  It still has the first class and second class waiting rooms with ticket kiosks to match to velvet curtains.  The marble floors and beautifully painted ceilings are wonderful and you can imagine the ladies in long dresses and the men dressed up passing through the train station.
We were lucky to catch a bus for the 15 minute journey to take us up to Taormina which is set up on the cliffs overlooking the bay.  From April to October Taormina is dependent on international tourism and the famous film festival which has just been held from the 11th to 18th June in the Greek theatre dating back to 3 BC overlooking the bays with Mount Etna in the background. Although now it is entirely Roman as it was rebuilt 1 AD when Taormina enjoyed prosperity.  The niches and columns were added.  The orchestra site was cut back to provide more room for a trench for the gladiators and animals to fight.  We paid 8 euros each for the pleasure of climbing up to the highest point of the seating area and taking in the full view of the bay from Messina to Giordini Naxos and over to Mount Etna puffing in the background.  What a setting!!!!
We wandered along the main street, Corso umberto I which runs right through the town and is one long street of very nice shops without cars to bother you.  With 15 to 19 century piazzas and beautiful churches and the Duomo dating back to the 13th century it is a pleasure to wander along.  We took photographs overlooking the bay at the restaurant roamed to be where Richard Burton and Elizabeth Taylor sat and drank overlooking the wonderful scenery as it was one of their favourite places in the world.
We stopped for lunch and a beer at the end of the street before wandering back along the street and down to the bus stop.  On the way back we hired two cars for the next day so we could travel up to Etna.
Once back at Ariel we swam but the water is now a cool 24 degrees.  We have seen at least one fast flowing stream from the mountains emptying into the bay.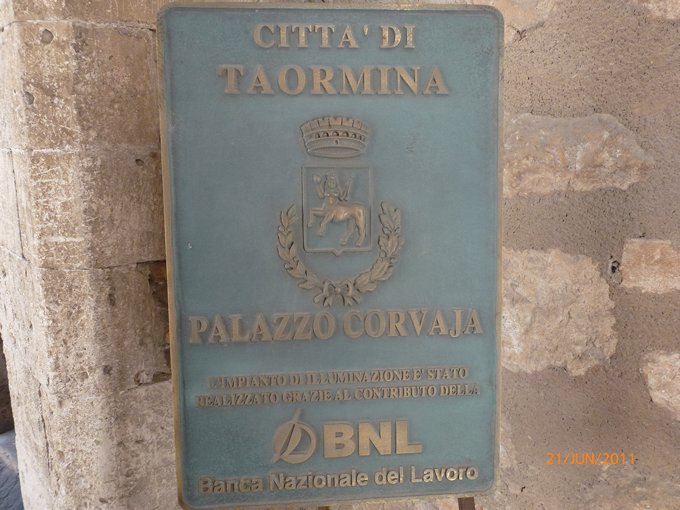 ---