36:41.73N 28:51.84E Tomb Bay, Gocek.

Ariel of Hamble
Jim and Valerie SHURVELL
Tue 17 Jun 2014 15:59
5th June, 2014.
After refuelling we left Fethiye marina at 13.10 and we were very soon under sail with quite a strong wind giving us a wonderful sail with a few tacks arriving at Tomb Bay around 16.25 having travelled 15 miles.  Jim was in his element  with the c.hallenge of the wind
Ariel performed very well and we were pleasantly surprised to see a gulet under sail as we neared the entrance to Tomb Bay.
Once secured to the pontoon the ice-cream boat arrive with very cold Cornett's but Jim and I had a great swim in the slightly cold water.  A stream from the mountains runs into the bay by the pontoon.
The small restaurant was stocked in the morning by the visiting vegetable/meat boat as there is no road here.  We had a great meal in the evening but the wind kept moaning in the night.
6th June, 2014.
We wake to a beautiful sunny morning and after breakfast which was early as we thought we would be leaving until we looked at the latest weather forecast Jim and I tracked up to the tombs.  It was probably one of the hardest walks we had done but we made it and the view was wonderful.  The walk down was trickier but we got down without any accidents.  We met several young people who made it look very easy!
Jim decided he would have a hair cut in the open barbers show with the chickens running around.  The chap did an excellent job and fussed and fussed but I was a little worried when he lit a small tool and took it to Jim's ears. He did such a wonderful job for roughly £6.50 Christine and I both had our hair cut later.  We could not resist the clear water in the afternoon in beautiful sunshine just before a huge clap of thunder and a crack of lightning.  The heavens opened and this went on for a good couple of hours.  For the first time in weeks we had roast chicken, roast potatoes and vegetables sitting inside in Ariel.  The rain finally stopped late in the evening once dark but unfortunately the restaurant suffered as most people found something on board to eat to avoid the heavy rain.  The restaurant which is outside did pull down some plastic blinds to provide a small amount of tables in the dry once people got there.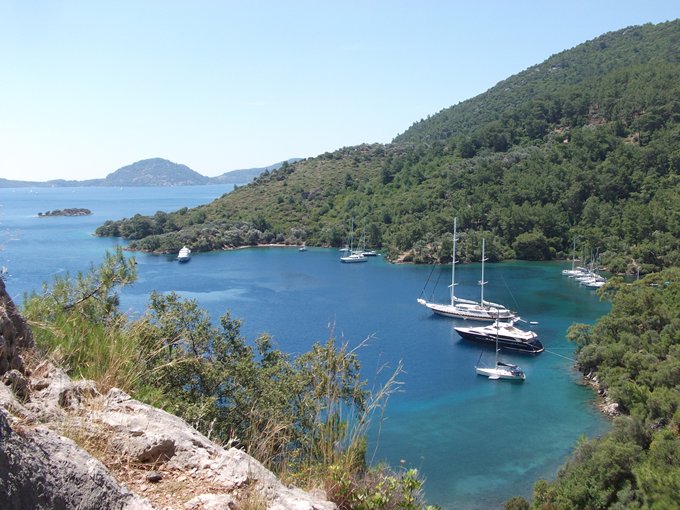 ---